 About Become a Bridge Builder
Become a Bridge Builder
Students at the newly installed Computer Learning Environment Center (CLEC) set up by Digital Bridges at the Shree Siddhakali Higher Secondary School.
Your support can help build a bridge between the education system in Nepal today, and the modern education system the Nepalese people desire and demand.

Dear Friends,
I'm writing to you with great news to report. 2022 was a good year for Digital Bridges 4 Nepal. We are growing our partnerships, our impact, and our organization. We've made great leaps in building bonds, delivering on promises, and launching new Computer Learning Environment Centers. We now have five fully operating CLECs, and requests for as many as 10 more from communities and school across Nepal. We expect 2023 to be even better. But we need your help.
I invite you to help us build bridges between the education system as it exists in Nepal today and the education system Nepalese demand and desire. Please consider contributing to our Year End Appeal. Our goal is to raise all of our operating expenses for 2023, so we can focus on the requests coming in for new CLECs to add to the network. With your help, all new donations, new funding partnerships, and partner support will go directly to the communities we serve. But only if we reach our goal. With a growing team, growing support from funders, and a growing network of CLECs, we need to meet the moment, and take advantage of the momentum.
The goals for 2023 are to -
1. Expand the team in Nepal to better serve the needs of students and teachers, and to take advantage of the demand for new CLECs
2. Double the number of CLECs in our network from 5 to 10.
3. Release our first research report on the progress and challenges in expanding access to digitally-enabled education in Nepal.
Again, we need your help to reach our goals. I hope you will consider making a donation to Digital Bridges. With a timely investment from supporters like you, we can accelerate the changes taking place in the Nepalese education system and make it possible for the next generation of young people to choose their own pathway through life, and build a more peaceful and prosperous future for all Nepalese.
Continue reading below to find out more about how Digital Bridges is acting as a catalyst to accelerate the modernization of the education system demanded by communities across Nepal.
With gratitude,

Edmond Antoine
---
Digital Bridges for Nepal in Action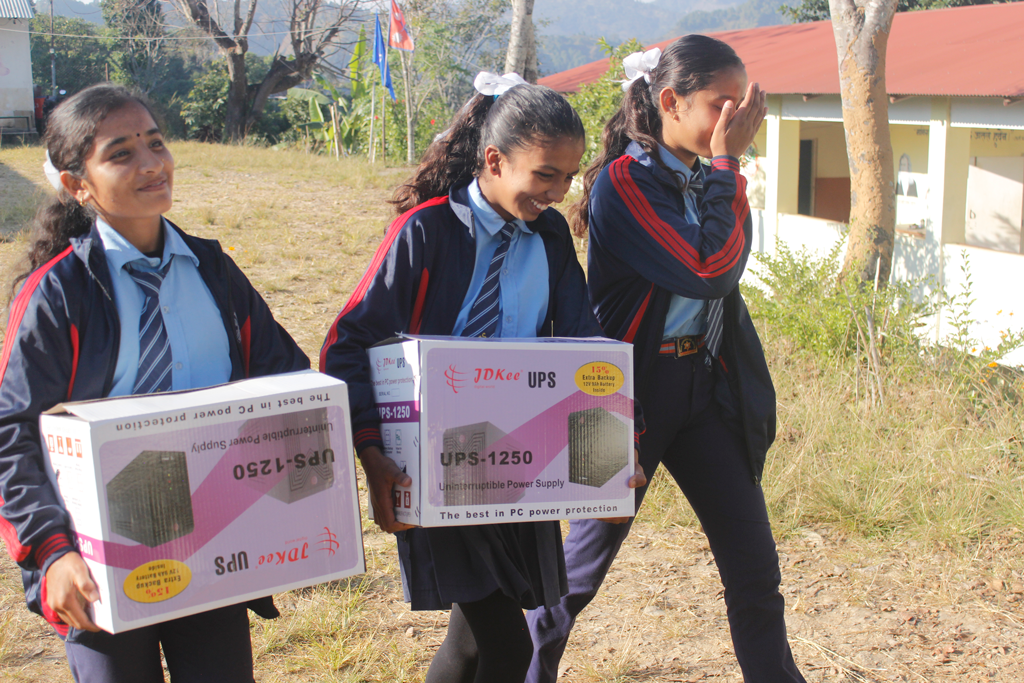 Girls helping load in the equipment during the installation of the newest CLEC at Shree Siddhakali Higher Secondary School.
The Challenge

"Nepal has struggled for decades to provide meaningful opportunities for large parts of its population, particularly for those who live in the countryside." - NY Times, November 2022.

Nepalese "students are adept in tasks related to memorization and recall, but are not effective in skills requiring application or ability at a higher cognitive level." - UNESCO
"Inequity, or disparity across social, income, and geographic dimensions... increases the vulnerability to shocks that can erode years of human capital investment." - World Bank
85.52% of students in Nepal attend school until grade 10, but only 13.5% complete grades 11 & 12.
Over 20% of GDP in Nepal comes from low-skill migrant workers who send paychecks home to keep their own children fed and in school.
The Solution
Digital Bridges 4 Nepal acts as a catalyst accelerating much needed change in Nepalese education by providing rural youth with access to information technology and high quality education
Digital Bridges 4 Nepal leverages low-cost solutions to provide computers, network access, and training in order to enhance students' and teachers' skills, knowledge, practical experience and confidence in the use of information technology.

Digital Bridges focuses on students in grades 11 & 12 so they are able to stay in school and continue their pursuit of useful knowledge and modern skills and pursue their own chosen pathway through life.

The Time to Act is Now

"For the first time in its history, Nepal is experiencing a demographic dividend... which is a phenomenon where young people account for the largest segment of the population of a country. This provides a unique opportunity for Nepal - an opportunity for young people to educate themselves, earn a sustainable living and contribute to the country." - UNDP
The current generation of young people in Nepal are too often forced to leave home to engage in migrant work in construction and other low-wage industries. It's time to invest in young people, so they can choose the future they desire!
Click here to read the full New York Times report on Nepalese Migratant Workers in Qatar, November 16, 2022
Become a part of the Solution
Join with Digital Bridges, the Nepalese diaspora, and people of good will around the world to accelerate improvements in Nepal's educational system.
Together we can empower Nepalese youth with the skills and knowledge they need to contribute to the growth and prosperity of their own communities and of all of Nepal.