About Mask Filters
The world is changing thanks to the introduction of COVID-19, and now more than ever we are focusing on preventative ways to stay healthy. Our daily routines have changed, and the "new normal" involves wearing a face mask as soon as you step outside your door. While the disposable and cloth masks we are using now are a step in the right direction, I am here to show you that there is a cost effective way to take those basic masks and turn them into powerful shields against COVID-19. There is a CLEER difference in the level of protection that you have now, and the one you will have once you add an CLEER SNS 85 Face Mask Filter powered by CLEER nanotechnologies to your existing mask. Take a look at the image below to see just how CLEER SNS 85 Face Mask Filters powered by CLEER nanotechnology capture viruses that standard material can't begin to compete with.
What is CLEER SNS 85 exactly? It is a material that is constructed with tightly-woven nanofibers that are highly effective at filtering out even the smallest particles. Results by independent NIOSH testing labs prove CLEER SNS 85 is not only more efficient at stopping these small particles from penetrating through our filters, but it also allows for dramatically more air flow than any solution available in the market right now!
What does this actually mean for you? This amazing material that's been treated with nanotechnology will provide you with superior protection at an N98 level, and you will still be able to breathe easily with little to no resistance. A great comparison would be something that can filter out particles similar to the N95 masks out there right now, but allow you to breathe with less than 10% resistance vs 30%-50% percent resistance with a standard N95 mask. CLEER SNS 85 is made right here in the USA, which means a quick turn around time on orders and the ability to offer you the face mask filter kits at a very affordable cost whether you are protecting yourself, your family, or your company.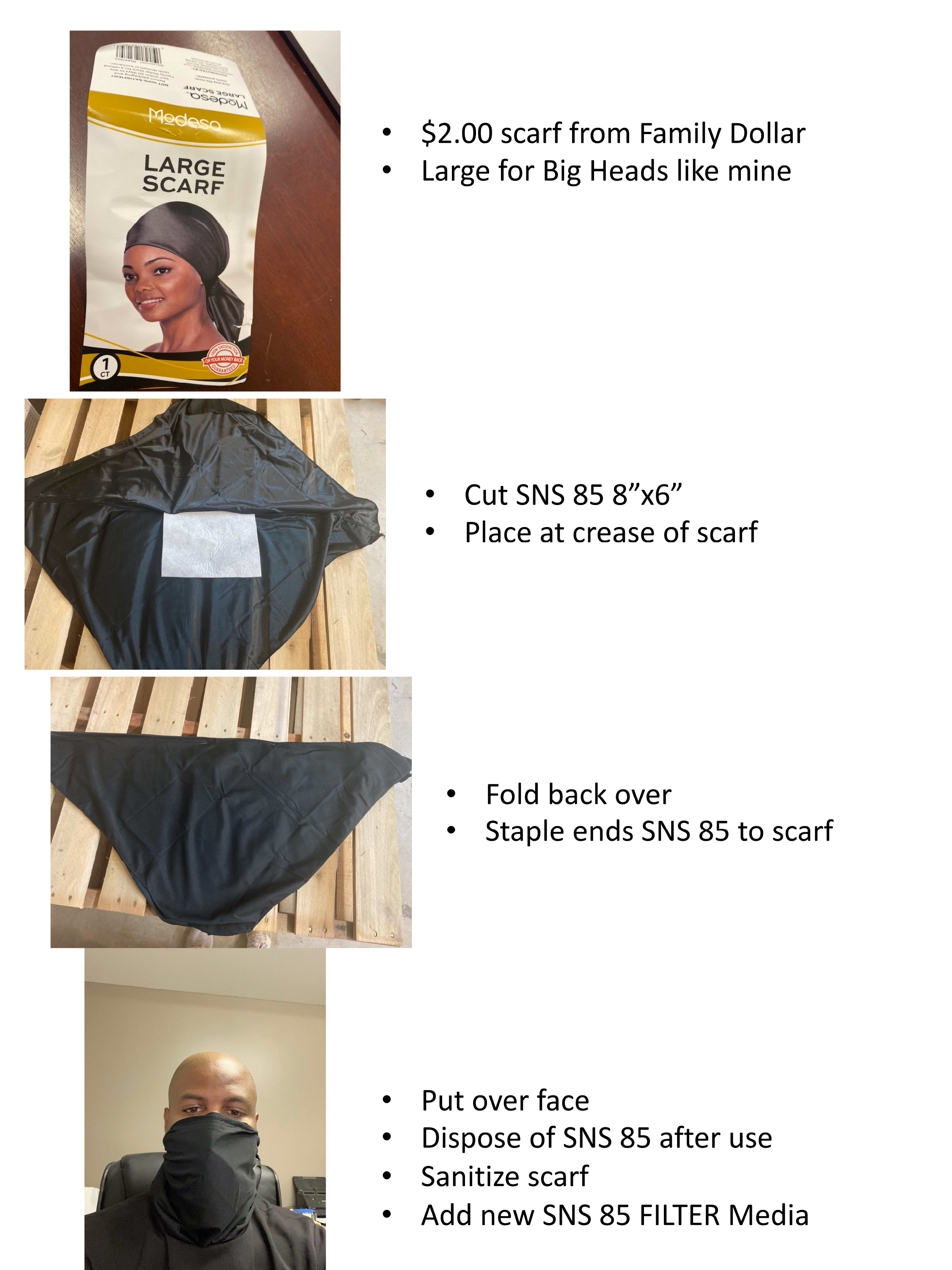 The WES Foundation is proud to partner with the team at CLEER to provide access to these life-saving CLEER SNS 85 Face Mask Filters to our families and friends. Currently there are two different kit sizes, depending on your needs. A few important facts about your filters:




Ø Filters can be cut to any custom size to fit your existing masks.


Ø Templates are included in your kit for guidelines on cutting to fit the most popular mask styles.


Ø All filters are single use only. Do not reuse the same filter more than 1 day.


Ø Treat filters and masks like medical waste. Throw away filters outside of your home, and wash masks daily.


Ø Filters will lose their nano fibers if washed or heated.


Ø Be sure to place your order for more filters at least a week before you are out.


Ø Feel free to contact me via the email provided for questions on group or bulk orders.







Proceeds from the purchase of the CLEER SNS 85 Face Mask Filter kits will go to the WES Foundation. The CLEER SNS 85 filters will keep you on the path to staying healthy, and you also want to make sure to continue to follow all CDC guidelines. Click the link below for up to date information from the CDC on additional ways to maintain healthy habits during the COVID-19 pandemic.

https://www.cdc.gov/coronavirus/2019-ncov/index.html