SLC Turf Trade
Trade up. Dry out. Stay green.
SLC TURF TRADE IS BACK!
Trade up to turfgrass that uses 40% less water while staying green all summer!

Salt Lake City (SLC) Public Utilities Water customers can trade their existing turfgrass with TWCA Qualified turf available through Salt Lake City Public Utility Water Conservation.
The program is simple:
Trade up. Pre-order your TWCA Qualified Drought Tolerant turf seed here. (You will receive a follow-up email guiding you through your pick up process)
Dry out. Install the TWCA qualified seed; either by fully replacing, or by overseeding into the existing lawn.
Stay green. Drought tolerant landscapes begin with the plants used. Combining Water Efficient management and water efficient plants can reduce the water demand of landscapes by up to 50%.
This public-private partnership is designed to conserve water and preserve the functional beauty and natural brilliance of living turfgrass. Currently, landscape water use in the Salt Lake City area ranges between 29 and 35 inches of water per summer season. To compare, Kentucky bluegrass, widely misconceived as being an exceptionally thirsty plant requires 24 to 25 inches.
TWCA Qualified turf requires approximately 18 inches.
Successfully converting existing turf to TWCA Qualified turf will save up to 3.7 million gallons of water. That is just the savings from this pilot project alone! By participating in this project you are making a positive change in your community and, by showing what is possible, you are affecting that change in communities around the world.
The Center for Water Efficient Landscaping (CWEL) is creating educational content to help participants transition their turf to more water efficient turf cultivars! Finally, to ensure landscapes are being watered effectively, participants can use the TWCA Irrigation Calculator to find their ideal runtime!
Donating to TWCA allows the program to continue evaluating and identifying the most drought tolerant turfgrasses of each species. Without donor support TWCA could not quantify the water use of turfgrasses in the managed environment and qualify them through our rigorous process.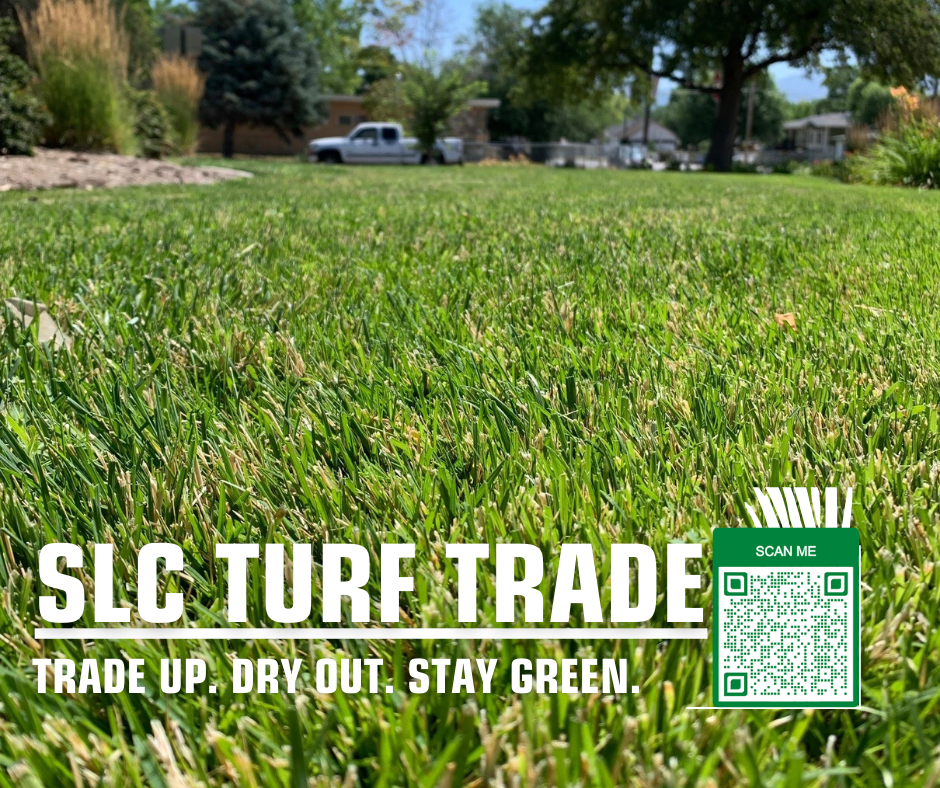 The groundbreaking landscape conversion program, SLC Turf Trade, is planning its return. Although the final return date is not set, Salt Lake City Department of Public Utilities (SLCDPU) is planning the return to coincide with Utah Extension recommendations. With this as guidance in mind, SLC Turf Trade should re-start sometime in late March or early April. Thank you, to all the excited residents eagerly awaiting the return of SLC Turf Trade.
Coincidently, that is also the timing for the start of the new Provo Turf Trade program. Based on SLC Turf Trade, Provo is rolling out their own Turf Trade offering the environmental and public health benefits of living natural turfgrass while reducing the water footprint of residential landscape. Provo will be collecting water use data for participating households to monitor change in water use over time.
Participants in both programs are strongly encouraged to use the program guide videos. Created by the Center for Water Efficient Landscaping and SLCDPU, these helpful videos walk consumers through the steps to transitioning to TWCA qualified drought tolerant turfgrass.
Together we make every drop count.
Photo Gallery