 NATIONAL CHILD ABUSE PREVENTION CAMPAIGN
Helps us spread the word!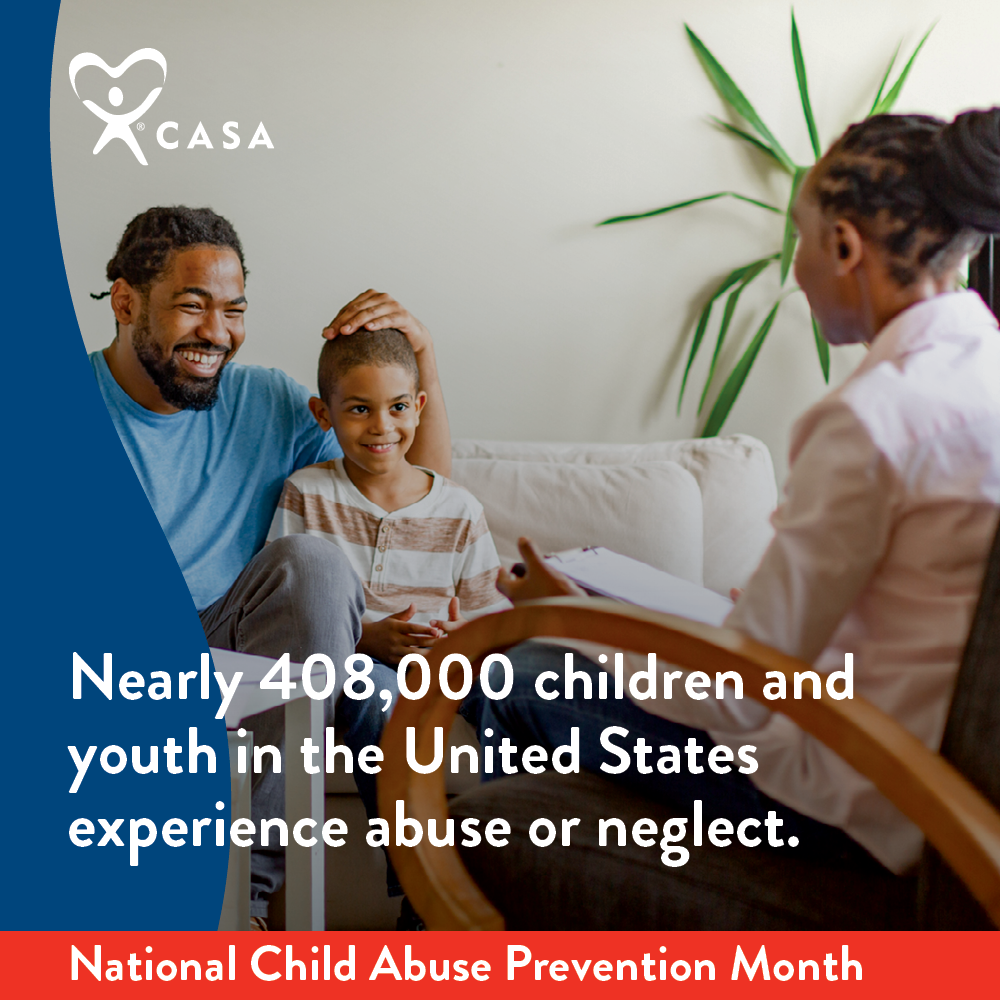 April is National Child Abuse Prevention Month. Each year, nearly 408,000 children in the United States experience abuse or neglect, ushering them into the dependency court and foster care systems. A child in foster care, on average, will move into multiple homes and attend multiple schools. All this chaos and inconsistency have longterm effects. As a result, some children may have been increasingly exposed to child abuse and neglect, parental intimate partner violence at home, and sexual violence.

Court Advocates for Children trains support, and promotes volunteer court-appointed special advocates (CASAs) so every child in Kittitas County who has experienced abuse or neglect can be safe, have a permanent home, and have the opportunity to thrive. Over the past 36 years, Court Advocates for Children has served over 2,000 abused and/or neglected children in Kittitas County.

Our volunteers are assigned to the most difficult and complex cases being adjudicated. These are cases of serious maltreatment, in which children are at great risk, and cases with extensive child welfare involvement over time. Children and youth who have spent time in the child welfare system are more likely to face incarceration, homelessness, and unemployment. They are less likely to graduate high school and more likely to be trafficked.

As a consistent, caring adult in the child's life, Court Advocates for Children volunteers provide recommendations to help Kittitas County judges make the most informed decisions for the wellbeing of the child. These volunteers also help identify resources for the child and their families to help strengthen families and prevent crises before they occur.

Will you help us sustain the work of our advocates by making a pledge to our Child Abuse & Prevention Campaign?
Sandra Bankston, Executive Director
on behalf of the board of directors and staff:
Bill Devaney, Vice-president
Brett Wachsmith, Treasurer
Debbie Cernick, Secretary
Dan Hansberry, Board Member
Michele Wurl, Board Member
Patrick Garmong, Board Member
Laurel Gorham, Board Member
Debbie Schmit, CASA Liaison
Sarah Read, Dev & Comm Coor
Nicole Wachsmith, Advocate Coor
Audrey Higginbotham, Outreach Coor
Jamie Samuelson, Training & Adv Coor
P.S. Abused and neglected children are often silenced by the adults in their lives. You can make their voices heard by contributing to Court Advocates for Children today. Comments
Join Our Mailing List