Live By Living 2022 Summer and Fall Retreats
Tell Cancer to Take a Hike!
Retreats are back for 2022! This summer, Live By Living is offering 6 cancer survivor/caregiver retreats. Participants can sign up for ONE retreat now. (Volunteers may sign up for more than one retreat.) As the season progresses, we'll open up unlimited registration, and participants can sign up for additional trips at that time, space allowing. We reserve the right to give preference to people who have never been on a retreat. Each person must each register separately.
EVERYONE ATTENDING A LIVE BY LIVING RETREAT MUST BE FULLY VACCINATED AND BOOSTED AGAINST COVID.
We are taking other covid precautions as well. For more details, please visit our retreat page on our website.

All retreats are 3 days and 2 nights. Most retreats to the huts start on Saturday, and end on Monday. There is one mid-week retreat at the Eiseman Hut in July. On hut retreats, we meet in a town near the trailhead between 8AM and 10AM the first day of the retreat, caravan to the trailhead, hike to the cabin (participants who are unable to hike may choose to get a ride to the hut), spend two nights at the cabin, and return to our cars around noon Monday.
The routine for the YMCA retreat is different. Drive to your lodging and meet for dinner on the first day of the retreat at our 6-bedroom cabin. We'll hike the next two days before returning home.
This year's trips are:
Peter Estin Hut, August 27-29 (Saturday-Monday)
Uncle Bud's Hut, September 10-12 (Saturday-Monday)
Uncle Bud's Hut, September 17-19 (Saturday-Monday)
YMCA Estes Park Conference Center, October 3-5 (Monday-Wednesday)
YMCA Estes Park Conference Center, October 5-7 (Wednesday-Friday)


Before registering, please read the "Survivor Retreat" page for important information. For example: the Tenth Mountain Huts do not have electricity or running water! Meeting locations are 2-3 hours from Denver. No dogs!
I just got diagnosed, and I'm still in treatment. Am I a "survivor"?
Absolutely! Once you've been diagnosed with cancer, you are a survivor.

How do I sign up?
Click on the "Register today" button above and follow the prompts.
We require medical clearance forms for everyone who attends a retreat. When registering, be sure to download BOTH medical clearance forms. One is for your doctor to sign. The other is for you to complete. BOTH forms must be completed and returned to us before you may go on the retreat.
We also require proof of Covid-19 vaccination and boosters.
Email your medical clearance forms and proof of vaccination to [email protected], or mail them to:
Live By Living
2381 S. Lupine St.
Lakewood, CO 80228
If you already have current (2022) medical forms for Cancer to 14K, you don't need to re-submit them. Just let us know.
I want to volunteer on a retreat!
Volunteers are the backbone of Live By Living. 6 volunteers staff each retreat. To volunteer on one of the retreats, please register using the button above, and check the "volunteer" registration type. Fill out the forms. We require both medical clearance forms and proof of Covid vaccination for volunteers, too.

Wait list.
We keep a wait list for each trip. If you are on the wait list, DON'T GIVE UP! Keep the retreat dates open, if you can. Experience has shown that people pretty far down on the wait list often get to go on a trip.
What does it cost?
Our retreats are FREE thanks to generous grants from Boulder Cancer Fighters, the George Karl Foundation, the Colorado Cancer League, the Colorado Cancer Coalition, the Miller Family Foundation, and our many individual supporters.
Pay it forward.
After you attend one of our retreats, you can share the great feelings you got by paying it forward:
Donate. $50 covers food for one person on a retreat. $400 sponsors one person to go on a retreat.
Volunteer. We are an all-volunteer organization. We need help doing just about everything.
Sponsor living. Learn about our corporate sponsorship program.
Finally, do this: spread the word. Make it your mission to convince 2 or 3 other survivors and caregivers to attend their first LBL retreat. Still getting treatments or checkups? Tell your care provider what a great time you had! Ask them if they have any Live By Living brochures, and if not, let us know so we can send them some.
Peter Estin Hut, August 27-29

The Ironedge Trail leading to the Peter Estin Hut is a 3-mile hike with 1800 feet of elevation gain. It's not the longest hike in, but it's the most sustained steep climb of any of our trips. The hut sits at 11,200
feet. You can read more about the Peter Estin Hut here. The meeting point for the Peter Estin Hut (City Market in Eagle) is about a 2 hour and 15-minute drive from central Denver, assuming no traffic. We will caravan to the trailhead from Eagle (about 45 minutes), hike in, spend 2 nights at the cabin, and hike out on Monday.
There's a great hike from the hut to Charles Peak that overlooks the Holy Cross wilderness, including Gold Dust Peak and New York Mountain. You really feel like you're on top of the world!


Uncle Bud's Hut, September 10-12
Uncle Bud's Hut is a perennial favorite. At 4 miles, the hike to Uncle Bud's is the longest of this year's retreats. The trail climbs about 1,300 feet, so it's not as steep as the trail to the Peter Estin Hut. You can read more about Uncle Bud's Hut here. It takes about 2 hours to get to our meeting point in Leadville from central Denver.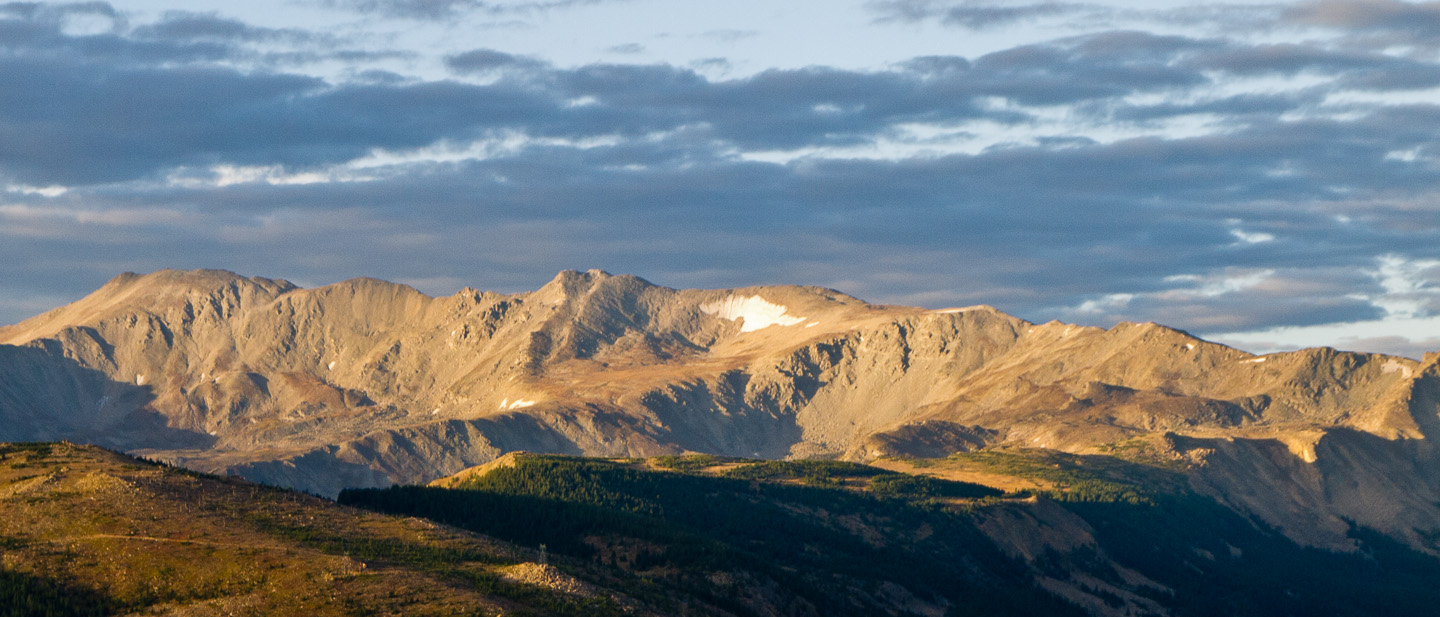 With the panorama of Mount Massive right out the front windows of the hut and Galena Peak behind, Uncle Bud's offers "intrepid trailblazers" truly rewarding vistas.

Uncle Bud's Hut, September 17-19

We'll return to Peter Estin Hut for a second time September 17-19. Details as above.

YMCA Estes Park/Rocky Mountain National Park October 3-5 (MONDAY-WEDNESDAY)

The YMCA conference center in Estes Park presents a more pampered approach to a Live By Living retreat. We stay in a modern 6-bedroom cabin, supplemented with lodge rooms as needed to permit double occupancy. Electricity! Indoor plumbing! Showers! And, for the volunteers – two dishwashers! Drive right to your door, unpack, and get ready for an amazing retreat. The YMCA Conference Center in Estes is about an hour and 40 minutes from central Denver.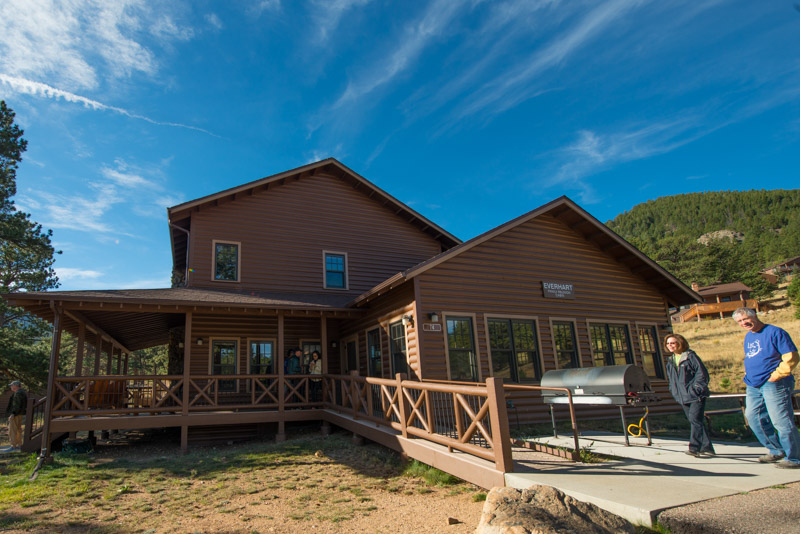 We carpool into Rocky Mountain National Park for 2 days of incredible hiking in the park with more than a splash of fall aspen colors. On the first day, there will be a choice of an easy hike of about a mile, or a more challenging hike of up to about 5 miles. The second day features a fascinating trail at the foot of the INSERT TEXT FOR FALL RIVER FLOOD TRAIL. This is also prime season for observing the elk mating ritual.

YMCA Estes Park/Rocky Mountain National Park October 5-7 (WEDNESDAY-FRIDAY)
See the preceding entry.