Instagram - Facebook - Email Us
Monthly Goal: $2631
[Below names are either pseudonyms or used with permission]
$200: Evervine's insurance. $194: N's insurance. $276: Riz's insurance and AAA. $1675: Ocean's car loans and family transport funds. $168: A's insurance. $118: Unicorn's car loan and transport funds (currently has their own Patreon, this number is what their Patreon still needs in order to meet their goal this month).
To sign up for monthly payments, click "Make a Donation." Under "Choose Your Donation Frequency," click "Monthly." You can either choose a donation level or enter your own amount.
Cars for Philly organizes redistribution through a lens of reparations.
We direct white and non-Black wealth to Black queer and trans people in Philadelphia in need of funds for transportation. This includes purchasing cars, title transfers, loan payments, repairs, oil changes, inspection, registration, gas, tolls, AAA membership, bus fares, and Uber/Lyft fares.
This group began in summer 2020, and became fiscally sponsored by Beyond Trenches (a 501c3) in fall 2022.
We center Black Queer/trans/MaGes (marginalized genders), darker skinned, fatter, disabled/different-abled, poor, hood, femmes raised/rooted in Philadelphia. We are "under the umbrella" of the Black Visioning Group (read more below), and organize alongside our "sibling" group, Housing Reparations Philly.
Want to get involved in more ways than just financial? White and non-Black people interested can email us at [email protected]. We meet virtually weekly, and regularly table at events like Pride festivals, farmers markets, and art/craft fairs in the Philadelphia area. There are also opportunities for giving rides, helping people move, etc. Black people interested in organizing with the Black Visioning Group can email [email protected]
Image: A photo of a table with an autumnal quilt. On the table is a little pumpkin, and many flyers with information about Cars for Philly.
Who's involved in Cars for Philly?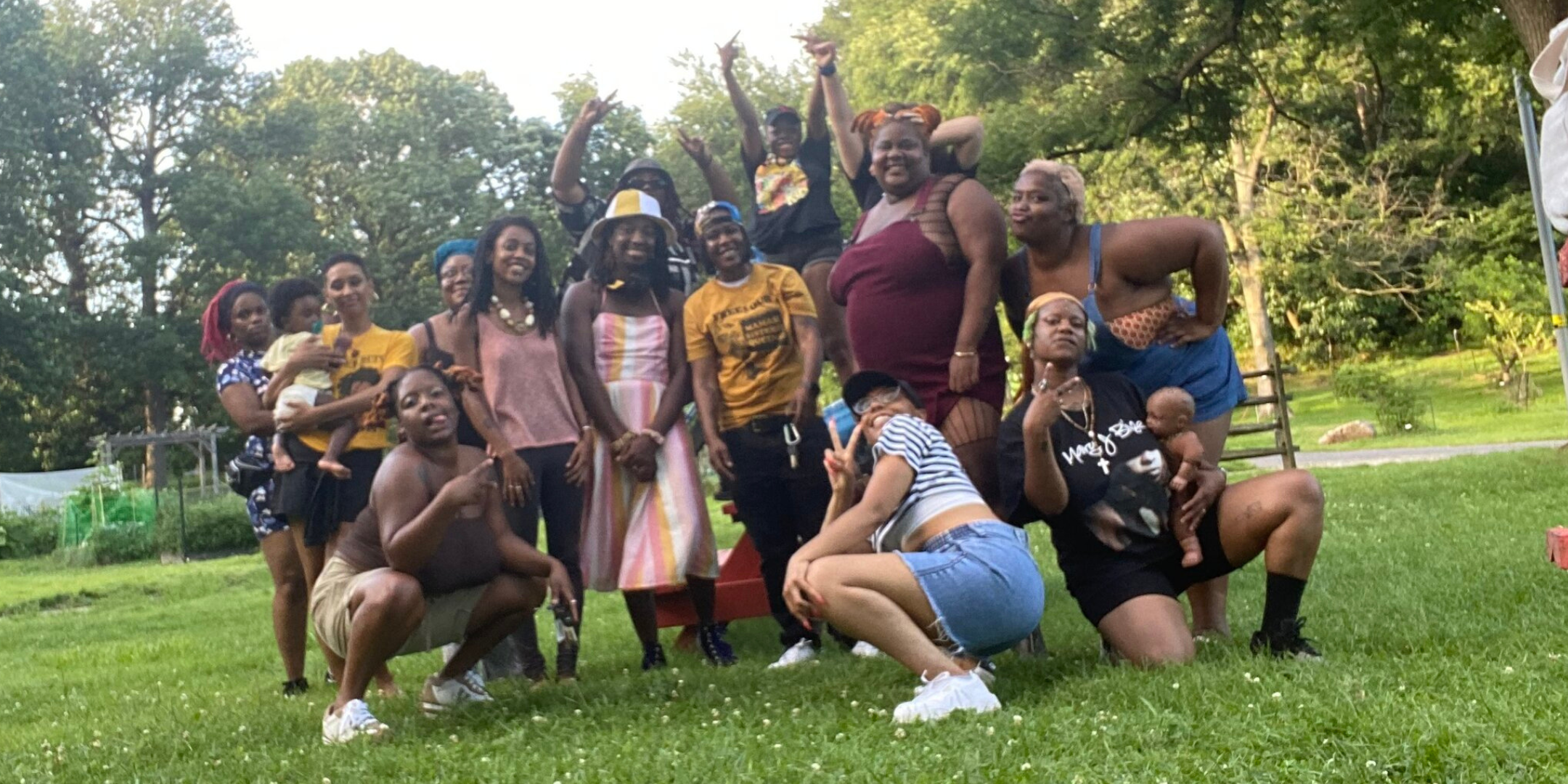 Image: A group of 16 Black people, the Dreamers and Black Visioning Group, smiles and poses in a grassy area. Most people are standing, but a few people are jumping in the air, and a few people are sitting. There are a few children being held.
Dreamers
The folks we center: 19+ Black Queer/trans/MaGes (marginalized genders), darker skinned, fatter, disabled/different-abled, poor, hood, femmes raised/rooted in Philadelphia.
These folks individually and/or collectively represent a "pod." A "pod" is a person/persons who receives reparative funds and labor (for example, Water Pod, Jade Pod, Basil Pod, etc.)
This group shares experiences with housing and dreams/wishes around what housing+ reparations looks like for them now & into the future.
Black Visioning Group
The Black Visioning Group (BVG) is a group of Black queer/trans folks in close(r) proximities to wealth and whiteness who organize to directly respond to the dreams and needs of the Dreamers. BVG acts as the liaison between the Dreamers and Housing Reparations Philly and Cars for Philly. They promote harm reduction, equity, and guidance from folks in less(er) proximity to wealth. Learn more at their website: www.blackvisioninggroup.com

Roles include: finding housing, co-signers, helping to draft legal documents (lease) to protect folks who are being housed, raising funds for rent/moving/income, security deposits and for larger purchases like home and land purchase. BVG has also engaged in hands on home-building.
White and Non-Black Organizers
The white and non-Black organizers are mobilized by the above groups to redistribute their own funds, labor, and privileges, as well as mobilize other white and non-Black community members to do so.

Roles include: disclosing resources, organizing/facilitating long-term fundraising, tabling at community events, managing social media, mobilizing other white and non-Black people, learning about and processing anti-Blackness and the history of reparations
Image: Two people with pale skin and short dark hair discuss reparations in Clark Park in Philadelphia.