 BVG Homestead Skill Development Fund
Funding Goal
$50k by the end of the year
- purchase furniture and appliances to complete the current home renovation project we are finishing
- purchase a work truck
- host a restful retreat for the collective to reflect on last project and prepare for the next
About The Black Visioning Group
The Black Visioning Group (BVG) is a group of Black queer/trans folks who organize to directly respond to the holistic dreams/needs of their community of Black queer and trans folks from Philadelphia, centering housing needs. We are an organization in pursuit of reassuring/securing housing via reparative redistribution. BVG centers Black Queer/trans/MaGes (marginalized genders), darker skinned, fatter, disabled, poor, hood, femmes raised/rooted in Philadelphia.
BVG provides hands-on experiences to develop sustainable skills like housebuilding, gardening, farming, outdoor living, cooking, artistry, with the intention to build skill-sharing and interdependent economies to sustain each other in more care-centered ways.
We are a group of loved ones creating survival systems for one another so that we don't have to depend on violent systems. Learn more about us and our work at www.blackvisioninggroup.com. Or check out our online mobilizing site via instagram @housingreparationsgroup where we mobilize non-black people toward redistribution through a lens of reparations.
Over the last two years we have redistributed over $400,000 directly into the hands of Black Queer Trans Philadelphians. We have solidified and sustained the housing and basic needs for 19+ pods (which include individuals and families).
What Have We Been Up To?

Completing renovation of a Black Queer Trans Philadelphia Born Artists' childhood home, ready for them to move back in by Fall 2022.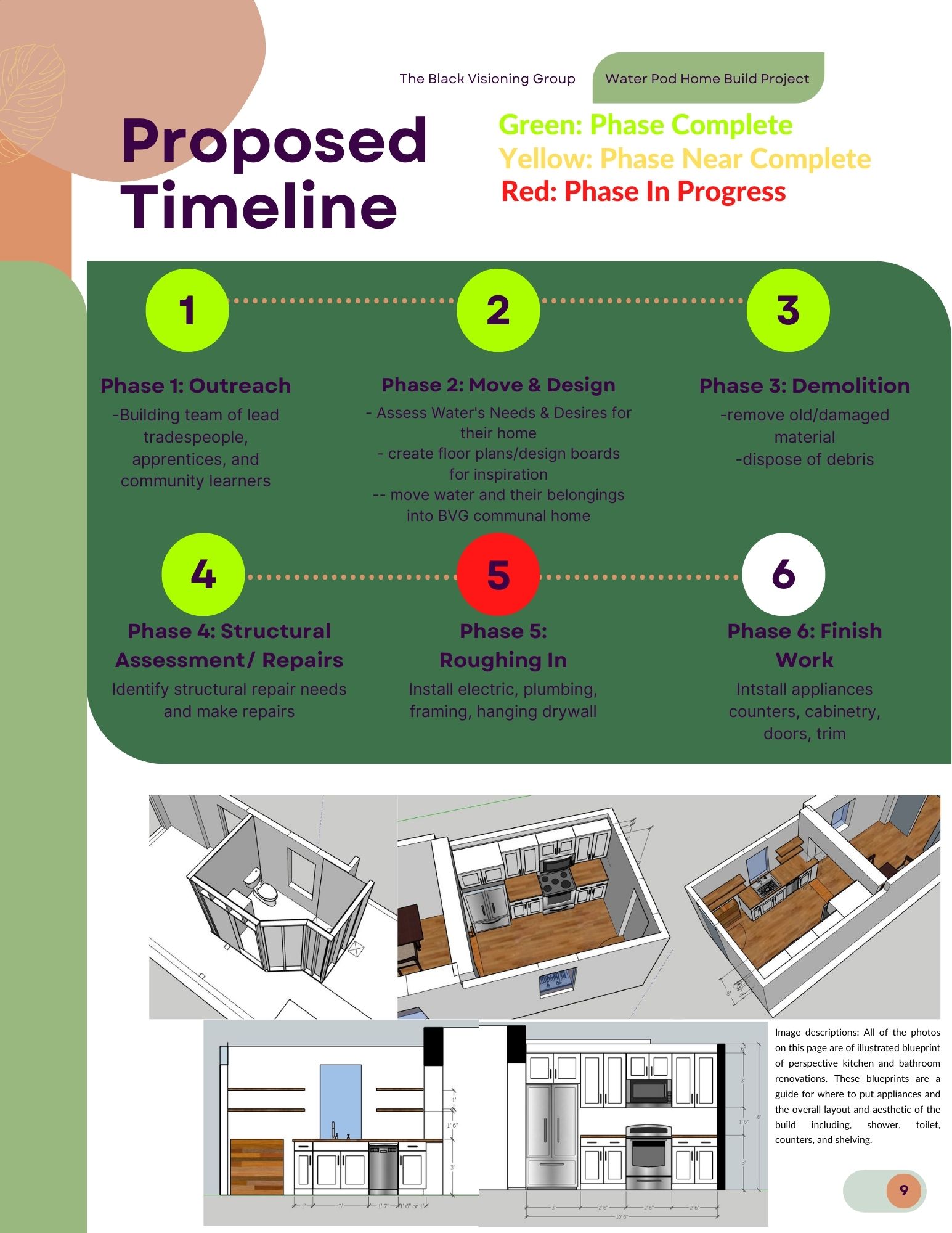 Paying 8 Black and Brown Queer and Trans people $20hr to learn construction trade skills in an affirming environment.
Enroll and Connect Black queer and trans people with desire to learn construction trades with mentors and long term paid apprenticeships
This project not only disrupts the displacement of Black Indigenous people due to rapid gentrification in Philadelphia, it also creates access to developing life sustaining skills within construction trades. Traditional learning spaces within construction trades are often unsafe for people who are Black, Queer, Trans, and/or Femme, which discourages us from choosing a career in these fields, or learning these skills altogether. Not only is it unsafe for us to learn in these environments, but because the majority of licensed tradespeople are White Cis Men, it is difficult to find and hire trustworthy and relatable people for these life sustaining needs.
Queer and trans people are often required to create chosen families due to not being accepted by their birth families. Consequently, many queer and trans people depend on communal and cooperative shared living. We are often required to subsist on economies of mutual aid, bartering and skill-sharing due to lack of material and financial resources. We dream of creating sanctuary spaces for our chosen families, where we can care for each other without having to solely rely on people/institutions that have historically harmed and excluded us.
What Makes This Project Unique?
We are specifically centering Black, Queer, Trans, Disabled, Dark Skin, Fat, Hood, Philly Femmes, and those closest to those identities and experiences.

We are paying Black Queer and Trans people livable wage to learn in an intentional community

We act from a philosophy of Redistribution through a lens of Reparations. While we have had volunteers of all races come to support this project, we are working from a practice of Redistribution through a lens of Reparations. This means that we understand the labor of Non-Black people, especially those with no ancestral ties to Lenni Lenape Land/ Philadelphia, to be a committed act toward repair of direct harms done to Black people of this land, city, nation, world.

Circumventing capitalism and its harmful practices, not better assimilate to it by avoiding use of loans and developing skills to strengthen skill sharing, bartering, cooperative economies

Creating opportunities to keep resources circulating within our community of Black Queer And Trans people.

Opportunity to receive care with no strings attached.

Black Queer and Trans people are leading our own initiatives for ourselves and each other.
Visions of the Future
We intend to create a crew of black queer and trans people licensed and skilled in the trades
we intend to use these skills to earn livable wages as well as create barter and cooperative economies. We will make a workshop space, purchase work vans, so that we can collectively travel the city and country to fulfill various contracting needs such as repairs, renovations, and homestead creations
we intend to use the funds earned, raised and redistributed to us, to clear one another's debts, and gain access to land in various places throughout the country with intent to build a sanctuary network where black queer and trans people can go to retreat, live, and deepen their learning into building trades and land work
https://flipcause-production-assets.s3.amazonaws.com/summernote_images/1664556217-HRG_Skill_Development_Collective.jpg