This #GivingTuesday please donate to #KeepKidsMakingBeats in 2023
At Today's Future Sound (TFS), we believe that Hip Hop music and culture can be a powerful vehicle to change a young person's life.
In 2022, we have come to understand the impact that COVID has had on the mental health of our students. Now more than ever, it's critical that we address the stress and trauma that our youth experience. The capacity to play, create, express, and experience joy are critical components of healthy development.
Our Therapeutic Beat Making (TBM) groups meet kids where they are, on their headphones, to fill this need with a culturally responsive educational, therapeutic, and social intervention.
At TFS, we know the value of the arts, Hip Hop, creativity and community. Our Therapeutic Beat Making model, or TBM for short, is grounded in the most current neurophysiological and developmental research, and endorsed by the leading world experts in trauma and mental health. And it's fun! We know that joy is the cure for stress and trauma.
Not only do we take our program to students in schools and community settings, we also bring it into the juvenile halls where Today's Future Sound has been pioneering empowerment-based programs that resonate especially with youth who need it the most.
How it works:
Every kid in one of our programs has the chance to create their own tracks. They learn to use professional equipment, and together with their class, make an album of original compositions, complete with cover art they design. Then kids perform for their classes and families. It's amazing to see kids expressing their feelings, gaining confidence and discovering their voice through music and their experience in our program.
In 2022 Today's Future Sound teaching artists impacted over 2000 youth, including kids in 4 US States, at a community center in Chiapas Mexico, 4 states in Chile, and 4 cities in Australia.
It's important to us that our impact lasts beyond our workshops – so this year we focused on training musicians and youth leaders to implement the Therapeutic Beat Making program where they live and work. We trained more than 25 artists and youth workers in Mexico, 30 in a month-long residency in Chile, and more than 50 in Australia, as well collaborating with leading international trauma experts to advance the field.
In 2023 Today's Future Sound aims to bring our Therapeutic Beat Making model to even more kids and training more musicians and youth development professionals in our model. We are devoted to advocating for economically disadvantaged communities and we need your help to bring our work to places where kids don't have access to programs like ours. We know there are kids everywhere with pent up creativity waiting to express themselves through beats.
Please help us bring this transformative experience to more kids by donating to our year-end fundraiser.
Together we can bring kids the gift of making music.
TEAMBeats Mexico project in San Cristobal de las Casas, TFS Director Dr. Gann works with two young students
Our goal for 2023 is to expand our Therapeutic Beat Making (TBM) model into more schools, community, and juvenile justice settings to reach more youth virtually and stay afloat.
Please help us continue to inspire the next generation through music by donating to our annual fundraiser.
Together we can bring the gift of making music to all.
Every donation matters, and we cannot offer these important programs without you! We have an array of thank you gifts for different donation levels, all designed by independent artists for Today's Future Sound. Take a look below and check out our TFS gear/clothing collection, the classic "I wish I had this when I was a kid" design, and more! We even have an instrumental beat tape compilation with exclusive tracks from our #GlobalBeatCypher beat making family from around the world for the $10 donation giving level. If you can't contribute financially, there are still ways you can support---please consider sharing our campaign on social media, telling others about TFS, and join our mailing list!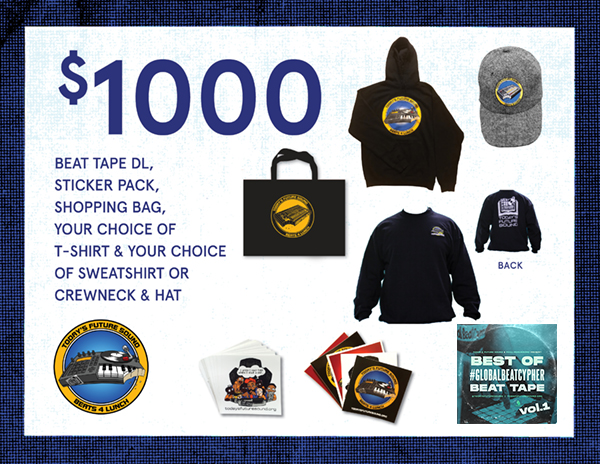 How would you like to support?
Comments