 Build Better Biratnagar
Fundraiser for the First Computer Learning Environment Center in Biratnagar
Building Bridges to a Better Future for Youth in Biratnagar
Build Better Biratnagar is bringing the first Computer Learning Environment Center (CLEC) to the Municipality of Biratnagar.
Students at work in the Computer Learning Environment Center (CLEC) at Kathmandu University of Education.

Providing Access to Information Technology
Build Better Biratnagar has teamed up with the Mayor's Office of Biratnagar, and the innovative nonprofit Digital Bridges 4 Nepal to deliver digitally enabled, multi-purpose classrooms to schools in Biratnagar in need of access to information technology.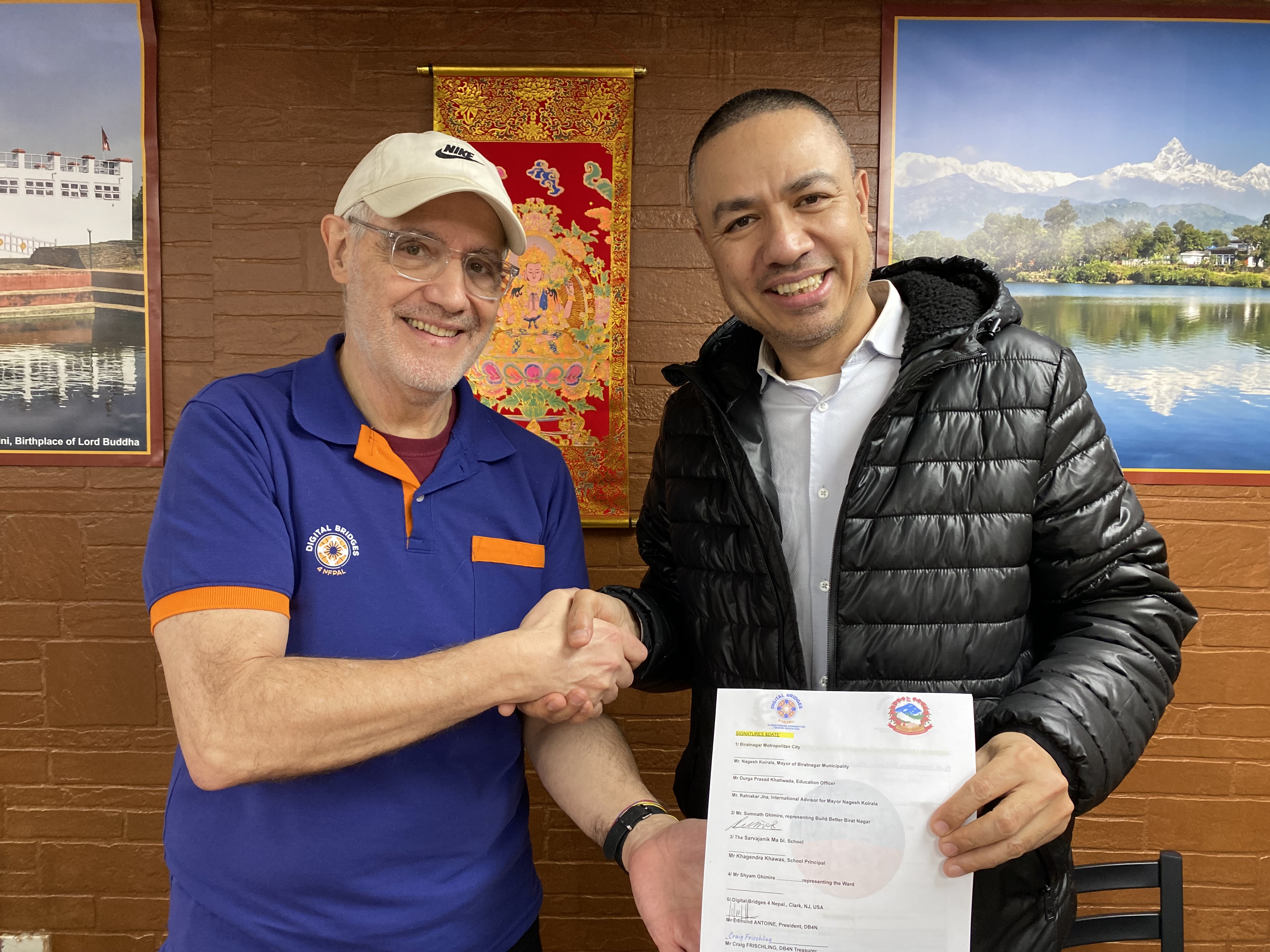 A Powerful Partnership to Support Our Youth
Build Better Biratnagar has signed a formal agreement with the Office of Mayor Nagesh Koirala, and Digital Bridges 4 Nepal to support the installation of a series of modern Computer Learning Environment Centers (CLECs) in underserved schools and communities throughout Biratnagar.
Build Better Biratnagar has committed to contribute $5500 USD to fund the installation of the first Computer Learning Environment Center (CLEC). The Mayor's Office and Digital Bridges are also contributing to fund the project

But we need all of your support to make this project a success.
[PHOTO: Digital Bridges 4 Nepal Founder Edmond Antoine and Build Better Biratnagar representative Somnath Ghimire]
---
About Digital Bridges 4 Nepal

Digital Bridges 4 Nepal is a 7 year old US- and Nepal-based nonprofit that collaborates with communities to increase access to information technology for students in rural and underserved communities in Nepal. Through its innovative Computer Learning Environment Centers, Digital Bridges connect students to the internet, teachers to one another, and communities to knowledge and resources.
Computer Learning Environment Centers (CLECs) are more than just computers in a classroom. CLECs use a decentralized design to enable collaboration between students, interaction between students and teachers, as well as access to other communities and schools in the Digital Bridges network.
[PHOTO: Digital Bridges 4 Nepal Founder Edmond Antoine with Mayor Nagesh Koirala, Deputy Mayor Shilpa Nirala Karki, Digital Bridges for Nepal Chairman Jhabindra Kumar Subedi and Nodal Officer Durga Prasad Khatiwada]

---
Building A Bridge to a Better Future for Youth
Digital Bridges 4 Nepal has already installed 5 Computer Learning Environment Centers in Bhimpsen Thapa [Gorkha], Jomson [Mustang], Nason [Manang] and Sotang [Solukhumbu], and the School of Education at Kathmandu University.
These CLECs are enabling students and teachers to bring modern technology, and modern teaching techniques into the classroom so that students can gain the skills, confidence and knowledge they need to succeed in the information economy.
Digital Bridges goal is to act as a catalyst to accelerate the changes to the education system that Nepalese youth deserve and demand.
[PHOTO: Students at work at the newest CLEC in Bhimsen Thapa, Ghorka District]

---
Somnath Ghimire, Build Better Biratnagar
Somnath Ghimire is leading this project for Build Better Biratnagar. Somnath has been a resident of Woodside, Queens since 1996. Since arriving in the United States, he has been actively involved in Democratic politics and served as a leader in the Nepali American community for more than 2 decades.

In addition to serving as State Director in New York for South Asians for America (SAFA), Somnath also serves as President of Girija Prasad Koirala Foundation America, (www.gpkf.org.np) as well as President of the Jackson Heights Chapter of Alliance of South Asian American Labor (ASAAL). Beyond New York, Somnath works as Global Program Manager for the International Institute for Human Rights, Environment and Development (INHURED INTERNATIONAL) and has traveled to 22 countries on human rights missions.

Previously, Somnath has served in many leadership positions in the Nepali American community including as President of Nepalese Public Relations Committee America. Additionally, Somnath has been a volunteer on many Democratic campaigns at the national, state and local levels including the Presidential campaigns of President Biden, Obama and Clinton. Somnath is excited to mobilize the South Asian community to expand opportunity and improve lives.
Sabina Khanal, Build Better Biratnagar
Sabina Khanal is from Biratnagar and has been in the US since 2003. She works in the IT industry and has worked in the healthcare, insurance, finance, and banking sectors. In her free time, she volunteers in community organizations and has actively assisted organizations in their projects in the Washington DC area.
She believes in providing opportunities for people in Biratnagar.
If all Biratnagarites living overseas come together for this cause, projects of this kind can be accomplished.
This is one occasion where all of us can demonstrate our solidarity for a cause in Biratnagar.

---
To Improve Education in Biratnagar, We Need Your Support

---
The total cost of the project is $20,000 USD.

The Municipality will fund 45% of the project. Digital Bridges and Build Better Biratnagar will each contribute $5500 USD to cover the remaining cost by February 10th.
To reach our goal of $5500 USD by February 10th, we need each of you to contribute what you can, right now. Together we can reach the goal.
Sincerely,
Somnath Ghimire and the Leadership Team at Build Better Biratnagar
---
The Time to Act is Now
Together we can empower youth in Biratnagar with the skills and knowledge they need to contribute to the growth and prosperity of their own communities and of all of Nepal.