Summer Camps are NOW OPEN!! Check out our list of weekly themes, as we have a total of 10 weeks of camp this year!!
Due to the 4th of July Holiday, we will be doing 3 ONE DAY CAMPS that week instead of a full week session.
All camps start at 9am with pick up at 3pm.
Science, Technology, & Art: June 19 - 23
Times are changing and as technology continues to be a major part of our lives, it has also become a major part of the art world. This week, we will explore using modern technology to not only create art, but to also us as a part of our art as its own medium. Open to students entering 4th grade and up.
Musical Theater: June 26 - 30
This week will be filled with all things musical theater. After assessing what the students musical favorites are, instructors will create a tailor made performance that will consist of acting, singing, and dancing then each student will have a chance to showcase their favorite aspect of musical theater by acting out a favorite scene or dancing and/or singing to their favorite song. As a grand Finale for the week, there will be a final performance on Friday June 30th, (usually around 2:15pm depending on size of show).All levels of experience welcome. Open to students entering 4th grade and up.

Day Camps: July 5, 6, 7
These camps will be decided in the next couple of weeks and we will have daily themes for these three days.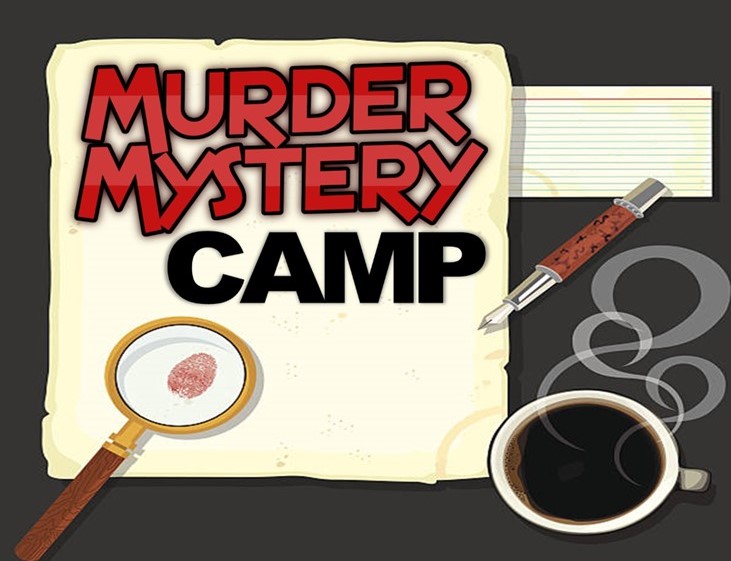 Murder Mystery: July 10 - 14
There has been a Muuurrrrdeeerrrrr....(dramatic music) Campers will become the cast of characters in a pre-determined Murder Mystery. They will learn facts about their character as well as their fellow "murder suspects" throughout the week. On the last day they will perform for family and friends and the audience we help discover "who dunnit". Open to students entering 4th grade and up
Theater (Play TBD): July 17 - 21
Campers will experience a production from beginning to end. They will learn how to audition, design costumes and sets, work on character development and finally perform for friends and family. ​Open to students entering ​3rd grade and up Stay Tuned for the name of the Play to be performed.

Animation: July 24 - 28
Participants will be introduced to designing, producing and editing short animations using methods ​such as drawing short step animations with flip-books, stop motion animation and creating pioneering animation devices. ​Open to students entering 5th grade and up.
Visual Arts: July 31 - August 4
Learn, practice, and execute the ins and outs of the fundamentals of drawing, painting, and sculpting. Each day will give participants new techniques and the freedom to apply them while creating their very own works of art. We encourage all who attend this camp to come with a "smock" so as to not get clothes stained, as we will be working in multiple mediums, some of which will be quite messy. Open to students in 4th grade and up.
Filmmaking: August 7 - August 11

Instructors will give campers a comprehensive look at filmmaking from concept to creation and guide them through each stage of the process. While using state of the art filming equipment, participants will be able to create a masterpiece to be presented at our "MadBarn" film festival on the last day of camp. Beginners AND Experienced filmmaking enthusiasts welcome. Open to students entering 5th grade and up.

Mess-A-Palooza: August 14 - 18

A camp that will utilize all of the activities that campers seldom get to do like making gloop, balloon pop painting, slime creations, and so much more!! Let your imagination run free and let us take on the mess and please bring an oversized button down or zippered shirt to wear to protect clothes. Open to Students entering 3rd grade and up.
Vex IQ Robot Olympics!: August 21 - 25
Welcome to the Robot Olympics! Campers will explore VEX IQ by working in groups to build and code their robots to compete in various Robot Olympic Events. Campers will begin by building the Autopilot and using the remote control to play robot soccer. They will then explore more complex coding and construction to build the Clawbot and code it to compete in different robot challenges and events! Open to students entering 5th grade and up.
---



**If your child is attending more than one week of camp (including Mad Barn Minis Theatre Workshop) or you have multiple children attending any of our 2023 camps, enter the discount code: MULTI for additional savings.
**Payment plans and financial assistance may be available. To inquire, please email us at [email protected]
Cancellation policy

If you cancel your registration prior to thirty days from the start of the program you will receive a cash refund minus a $25 administration fee. If you cancel your registration within thirty days of the start of the program, you will receive a credit for any event at The Barn minus a $50 administrative fee. If two weeks prior to the start date of a particular camp the minimum registration has not been met, the camp will be cancelled and full refund issued..

Please check back soon!

This campaign has ended or is not currently active.
Contact us if you would like more information on how to support!