You're invited to experience two days of Leadership/Personal Development Seminar/Event that will bring out YOUR BEST SELF as you navigate through the future YOU WANT TO LIVE IN!


Join us for a Two-Day
BOOTCAMP: A Leadership/Personal Development
Seminar/Event!


September 21 - 23, 2023
with a Meet & Greet Kick-Off on the evening of Thursday, September 21


Previous Attendees have said...


About the Event
We are holding this BootCamp in Lehi, Utah at the home of Angie and Larry Law
Thursday, September 21st, 6:30 pm - 8:30 pm (to kick off this awesome event!)
Friday, September 22nd, 9 am - 9 pm
Saturday, September 23rd, 9 am - 10 pm (maybe earlier but plan on 10)
Prepare to leave our two-plus days together, having each aspect of your life enriched--Personal, Financial, Physical, Emotional, Spiritual and even Mental! We are truly excited as we KNOW what happens in this event and no doubt you will be glad you got here to be inspired and spoiled in a way you most likely have never experienced before!
One of the things we've learned over these past 20 years is that people think they can't have wellness in ALL aspects of their lives. They want to be Physically well but they think they can't afford it because their Financial wellness is in shambles. And, many don't address the Emotional component of wellness so they're surprised when all they try to do for their physical well-being doesn't work for them even if they can afford it!
At BootCamp, we address all areas of wellness with a special emphasis on the Financial and Emotional components. YOU can have it ALL. It's a JOY to be WELL in ALL ASPECTS of our lives! We're filling up...CLICK HERE and JOIN US!
Individuals: $175.00
Couples (in the same household) $300
Preparation
Over the years we have held these "BootCamps" many times across North America and in Europe. We have met such wonderful people who've become life-long friends! Larry and I have been so honored to facilitate these experiences and know YOU will be glad you joined us. But, since we keep these groups small, they fill up fast so get registered now and come to our HOME for a two-plus day experience you will never forget!
Here are the optional requirements:
First: Each participant will have the option to give a 3-minute presentation (with a group discussion follow-up) on a "wealth file" of their choosing from the book: Secrets of the Millionaire Mind by T. Harv Eker (Angie hated the title so didn't read this book for years…She wishes it had been entitled: What is Your Money Blueprint? She would have read that book easily! Pretend that is the title!!) Answer the question, "Why did this wealth file impact you?" And, "How will you allow it to impact your life moving forward?"
Second: Prepare a 12-minute presentation (it may be less time but not more than 12 mins.) on whatever topic you choose. The other participants will have the opportunity to ask you questions after your presentation. It CANNOT be anything to do with "selling" or anything to do with your business. It can be something you are interested in…something you do for a hobby but just no sales pitches. Again, it can be a topic YOU want to learn about or something YOU have expertise in.
Here are some examples of previous presentations:
Handwriting analysis

How to make the best peach pie

Training a seeing-eye dog

Preparing a Fireworks Display

Basketball 101...
You get the idea?
There have been hundreds of topics people have chosen to share with our BootCamp groups. Teach us what you've learned. Something you can develop that will be fun and or interesting for you to share or that you think others would enjoy hearing as it may simply be your life story!
If you aren't sure if something is appropriate, let Angie know and she will discuss it with you. We've had awesome topics shared over the years…if you can't think of something you'd like to present, send Angie an email and she can give you more suggestions from others that may spark an idea in you!
If you ABSOLUTELY DO NOT want to present anything, that's ok too…it happens each time, so no worries. However, also each time, by the second-day folks are wanting to present something even when they were so sure they would not want to! We end up putting everyone on the schedule–but really it's ok if you'd rather not.
Third: After each presentation, I will follow up with you and the group. This follow-up time will be something you most likely have never experienced before. You will be amazed at the insights that come from this AND, IF you are OPEN to really learning how to tap into the unlimited potential within yourself, you will begin to see how to get unstuck in whatever area of your life you are not completely happy with and how to realize your wildest dreams as you move into your future. Finally: BootCamp is also about how to become the very best version of yourself AND how to capitalize on that too! You will learn specific principles that govern natural law and when those principles are put into action within your own life your life will change for the better--even in ways you least expect!
Any questions? Email us: [email protected]

Previous Attendees have said...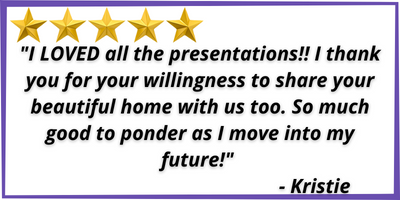 Meal Info
Here is the FOOD CATERING information for those who'd like to have their food prepared for them. Participants may also bring their own food but there is no time to go out to eat:

Hi Everyone!
I am so excited to meet you all at BootCamp 2023! It's my pleasure to cook for you if you would like that option. If you would like the catered meals for both lunch and dinner on Friday and Saturday (4 meals) please contact me by September 5th.
You can email me at [email protected], or text me at 208-206-7959. Meals will be $14 each and payment before the event will be appreciated so I can purchase the ingredients. I can take payment through Venmo (@angelica-orr), PayPal, or you can mail me a check (email me for my address if that is your preferred method. [email protected])
I take a whole-food approach and cook with the cleanest ingredients I can get. I can usually make accommodations if there are special dietary needs. If you have any questions before signing up, please contact me and I'll be happy to visit with you.
Looking forward to cooking for you!

Previous Attendees have said...