 Son of Houdini
Anthropropolygos!
Our hero, the orphan HYMAN WEISS, in his quest for purpose and identity, has reason to believe that the great Houdini might be his father. When Houdini dies suddenly at 52 of a ruptured appendix, Hyman decides to follow in his spiritual father's footsteps and become Escape Artist: HYMAN THE MAGNIFICENT. Unable to rehearse his tricks for one reason or another, every performance ends in disaster, one more worse than the last.

All the young men in 'The Pinch' are after MIRIAM ROSEN, the village beauty, but she only has eyes for the compelling Hyman, in part because in her he seems to be uninterested. Told through the eyes of STUART, Miriam's shy, appealing younger brother, who is also Hymie's incongruous best friend.
The ghost of Harry Houdini makes 5 significant appearances throughout SON OF HOUDINI.

SON OF HOUDINI is a movie about the search for identity; ambition and perseverance; overcoming one's fears, and finding the courage to love and be loved - with light-hearted profundity and comedic depth. A character-driven Coming-of-Age Romantic Comedy with universal themes, using the techniques of tomorrow.

SON OF HOUDINI is a film that demonstrates, with extreme sleight of hand, finding true love may be the greatest trick of all, and has its subliminal subtext: WE ARE ALL ONE. Screenplay (c) by Barbara Glasser. Registered Writers Guild of America East, based on "Hyman the Magnificient" from A PLAGUE OF DREAMERS (Scribner), with permission of the author Steve Stern.

Written by Barbara Glasser
Produced by Phil Cappadora
The PodCast Playbill
~ William Mikula as Hyman Weiss
~ Trinity Pesko as MIRIAM ROSEN
~ Griffin Scially as MICKEY GRABER

Pamela Hawley as MRS. ALTFELDER

~ Kathleen Valent as Mrs. Dryfus
~ Yousif Hassan as RUFUS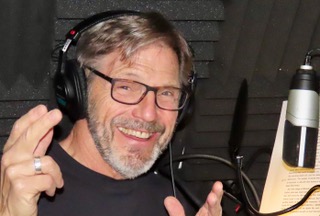 ~Jerry Schultz as RABBI FEIN

~ Jeff Levinson as Mr. Rosen

~Herut Ashkenazi as Mrs. Rosen

~ Caleb Blocker as CLARENCE

~Kyle .U. Knowho as Adult Stuart
~ Theresa Yonash as Rachel
~ Al Washington as FEMALE CONGREGANT
~ Amber Johnson as Clara
~ Steven Hall as EUGENE

~ Michael Lake as BERNIE SAPERSTEIN
Ana Graziosi as Mrs. Pinsky

~Mark Gale as Dr. Dreyfus
Michael Sanford

~ Sandra Susser Dick as Aunt Frida
~ Al Barney as Mr. Forbits
~ Bruce Lipsky as IKE TAUTENBLATT
~Chandi Perera as a miscellaneous voice over
STUART ROSEN. (18-29)

Ghost of HARRY HOUDINI. (52)

ADDITIONAL CHARACTERS (in order of appearance)
Males

UNCLE SHARKEY. (35+)

MICKEY GRABER. (18-29)
HERMAN BLEN. (18-29)



MR. BLOCKMAN. (35+)
CORDELLE. (35+)
RUFUS. (18-29)
MR. KLOTWOG. (35+)
TWO OLD WORSHIPPERS. (90+)
BIRNBAUM KID. (Under 10)


REPORTER. (35+)
SHARPIE. (18-29)
BETTOR. (18-29)

BERL WEISS. (18-29)

Females
MRS. ELSTER. (35+)
PEARL KLOTWOG


TWO OLD WORSHIPPERS. (90+)
CHANA SARAH WEISS. (18-29)

EXTRAS (All ages)

Idle Hour Cinema Audience.
Rosen's Deli Customers. (#1 & #2)
Market Square Observers.
Synagogue Members.
Harahan Bridge Participants.
Police Officer at the Harahan Bridge.
Charity Ward Patients.


ATTN:
All positions of CAST and CREW contingent upon funding, agreements, and scheduling.