For the Culture - Fall Community Festival
Sponsor Information and Vendor Application
"For The Culture" VAACC 5th Annual Fall Community Festival
Date: Saturday, October 14, 2023
Time: 12:00 PM - 5:00 PM
Location: 744 Hampshire Lane, Virginia Beach, Virginia 23462

Thank you for your interest in being a part of the "For The Culture" VAACC 5th Annual Fall Community Festival. We are excited to have you join us in celebrating our vibrant community's history and culture.
Festival Vendor Point-of-Contact
Diamond Greene | [email protected] | 757-707-8478
---
Application and Payment Deadline:
Vendors must complete the application and submit payment by September 15th, 2023.
If payment arrangements are needed, please contact us as soon as possible, to ensure vendor space is reserved.
Inclement Weather
If the event must be postponed due to inclement weather, the event will be held on October 21, 2023. Updated Information will be provided to all vendors as needed.
Vendor Responsibilities:
Vendors are required to manage all sales and merchandise transactions independently.
All food vendors agree to meeting all requirements of the Virginia Health Department
Vendors are encouraged to bring their own tables, tents, and chairs for their designated area.
Tables and chairs are available for rental with a fee. Reservation must be made by August 28th, 2023.
Vendors must ensure that their setup does not exceed a 10x10 space.
No internet or electricity will be provided on-site. Vendors are responsible for their own electrical needs.
The playing of music by individual groups or organizations during the festival is not allowed.
No alcoholic beverages or paraphernalia of any kind are permitted on the premises. This includes alcohol in any form, as well as cans or bottles that could be used as prizes or giveaways.
Vendors are responsible for maintaining a clean and hazard-free area during and after the event.
Table/Chair Rental Fees:
Tables - $15
Chairs - $8
Please complete the rental information for tables and chairs by August 28th, 2023.
Community/Educational Organizations: No table/chair rental fees.
Event Arrival and Setup:
Vendors are welcome to begin setting up on the day of the event starting at 10:00 AM.
If special arrangements are required, please contact us in advance.
Detailed parking instructions will be provided closer to the event date
---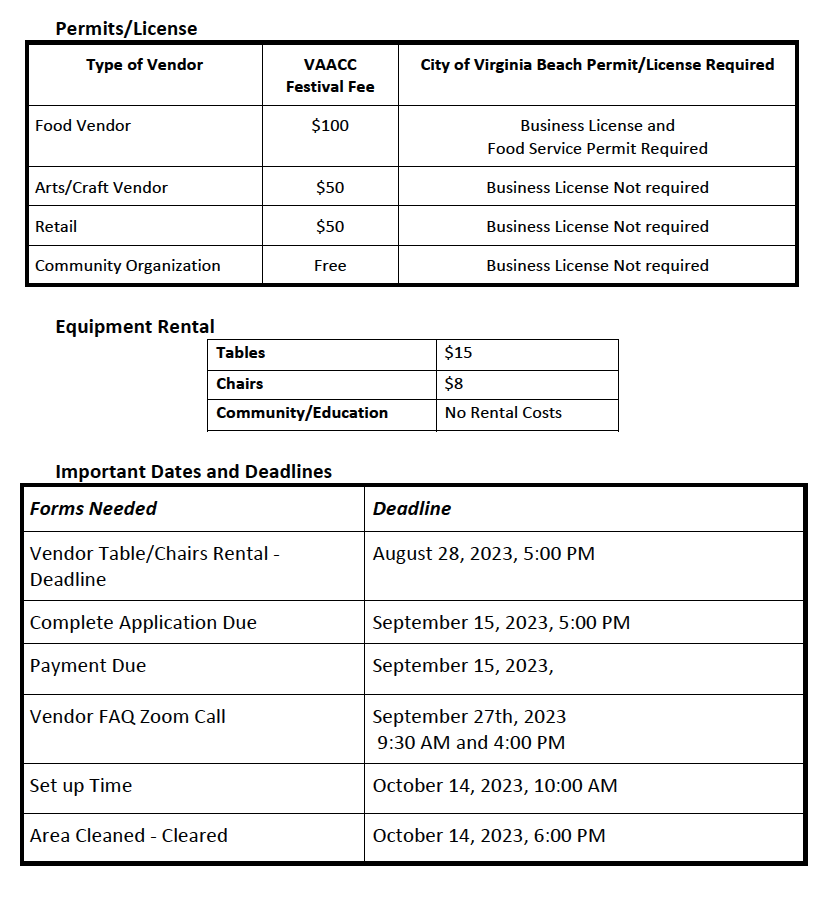 Photo Gallery