The Heart Of San Francisco and Peace Navy Parade
Join

The
Peace Navy
and come sail out to The Heart of San Francisco on the afternoon of October 6th
1

It's easy, just get your boat and yourself out on the bay this upcoming October 6th around 2 pm and voila you'll be sailing with the Peace Navy heading for The Heart of San Francisco.
2
or you may join the Peace Navy and participate in the Peace Navy maneuvers (performance) which will consist of flying white kites, banners. pendants and burgees.
3
or you can turn your Boat into a Bird
Sail to
The Heart of San Francisco as it magically appears floating above the Golden Gate Bridge.
Your boat, along with a flotilla of Peace Navy vessels- large and small, sailboats, powerboats, windsurfers will all ply the
waves and after the Heart appears the Peace Navy will launch a multitude of banners, pendants and white kites,
So what is this The Heart of San Francisco event all about?
Peace and Love
Chris Hardman, Antenna Theater
and the good folks of
San Francisco Bay Area
present
The Heart of San Francisco
- I found my Heart in San Francisco -
If Peace and Love have a geographic epicenter anywhere on the globe it would no doubt be San Francisco.
Many people feel that they left their Hearts in San Francisco, and many found their Hearts here; lost or found, people believe this is where Love and Peace reside.
And so on the afternoon of Sunday, October 6th, this spirit of Love will physically manifest in the form of a Heart floating above the Golden Gate Bridge.


So, what is the magical, metaphysical radiance that draws people of goodwill to SF?
Jerry Garcia probably came closest to laying it out:
"What we're thinking about is a peaceful planet, we're not thinking about anything else.
We're not thinking about power, we're not thinking about revolution or war.
Nobody wants to hurt anybody. Nobody wants to get hurt.
We would all like to live an uncluttered life, a simple life,
a good life and think about moving the whole human race ahead a step …."
Jerry Garcia,
Grateful Dead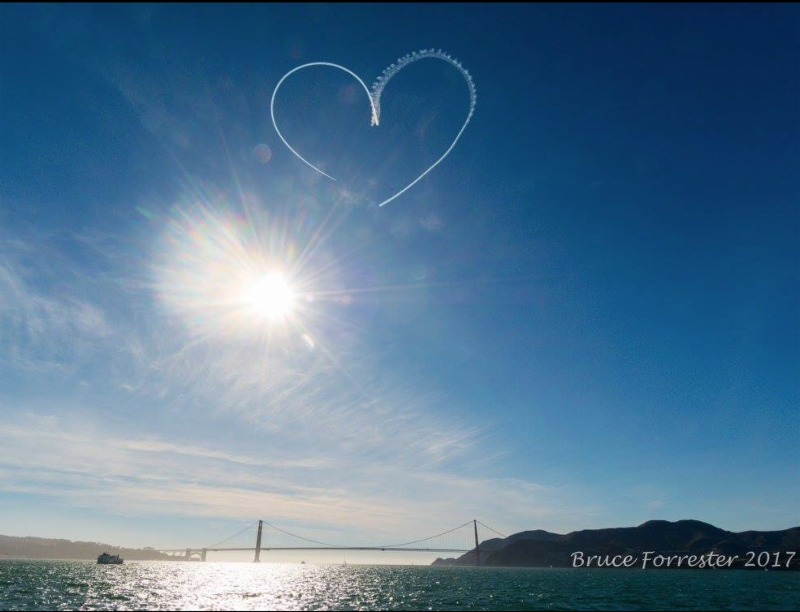 Photograph taken on October 1st, 2017 of the first Heart of San Francisco, Antenna's sponsored celebration of the 50th anniversary of the Summer of Love. (and as they say- Proof of Concept)

Event Information
Title: The Heart Of San Francisco and Peace Navy Parade
Motto: I found my Heart in San Francisco
What: For The Heart Of San Francisco celebration a skywriting plane will draw a giant Heart above the Golden Gate Bridge. Large and small vessels, flying hearts and flowers, will sail the Bay. A live-streamed audio visual program will accompany the event and will be accessible to anyone in the Bay Area (for a small donation).
Where: The Heart will be visible from Crissy Field, Fisherman's Wharf, Alcatraz, Angel Island, and most waterfront areas around the bay with a view of the sky above the Golden Gate Bridge (fog willing).
When: Sunday afternoon, October 6th, 2019.
2:00 PM
Who: Antenna Theater, a 501c3 nonprofit, founded in Sausalito, CA,1980, (and many volunteers).
Contact: • Chris Hardman, Artistic Director, Antenna Theater.
415 578 2435; [email protected]
Antenna Theater is supported by individual, and foundation donations as well as earned income from original Antenna projects.
Access to the live stream will be offered for a donation. Funds will be used to fund The Heart of San Francisco Event annually .
Thanks!