Casa Victoria´s WUAWUAS PIZZA CAFÉ
WUAWUAS Terrace on the Plaza
Hello,
I am Alicia Durán-Ballén, founder (2001) and director (2012-24) of Fundación Casa Victoria.
We want to invite you to be part of a unique experience of starting
yet-another-something-never-before-done in this neighborhood:
Terraza en la Plaza
Three years ago, some people told me I shouldn't do it....not in this high-risk area of Old Town Quito. They thought no one would come to a PIZZA CAFÉ here...."too insecure...too unkept, too forgotten" .
But stubborn as I am-I insisted!
SO yes, three years ago, we completed a long-time dream to turn our Casa Victoria´s scary, damp and dark "dungeon" into a charming, warm and lovely PIZZA CAFÉ.
We did a Crowdfunding:
https://www.indiegogo.com/projects/a-purpose-driven-pizza-cafe/x/12524824#/
Our "dungeon"....three years ago, as we started to transform it....
And thanks to many of you who generously responded, WE DID raise the full amount needed, ($28K).
We have been making and serving for the last two years our very own, home-made artisan pizzas and delicious cappuccinos, among other items.
Today: Dan and I, (left), and our amazing staff, in one of the 3 "igloos" at WUAWUAS PIZZA CAFÉ.
WUAWUAS PIZZA CAFÉ serving our community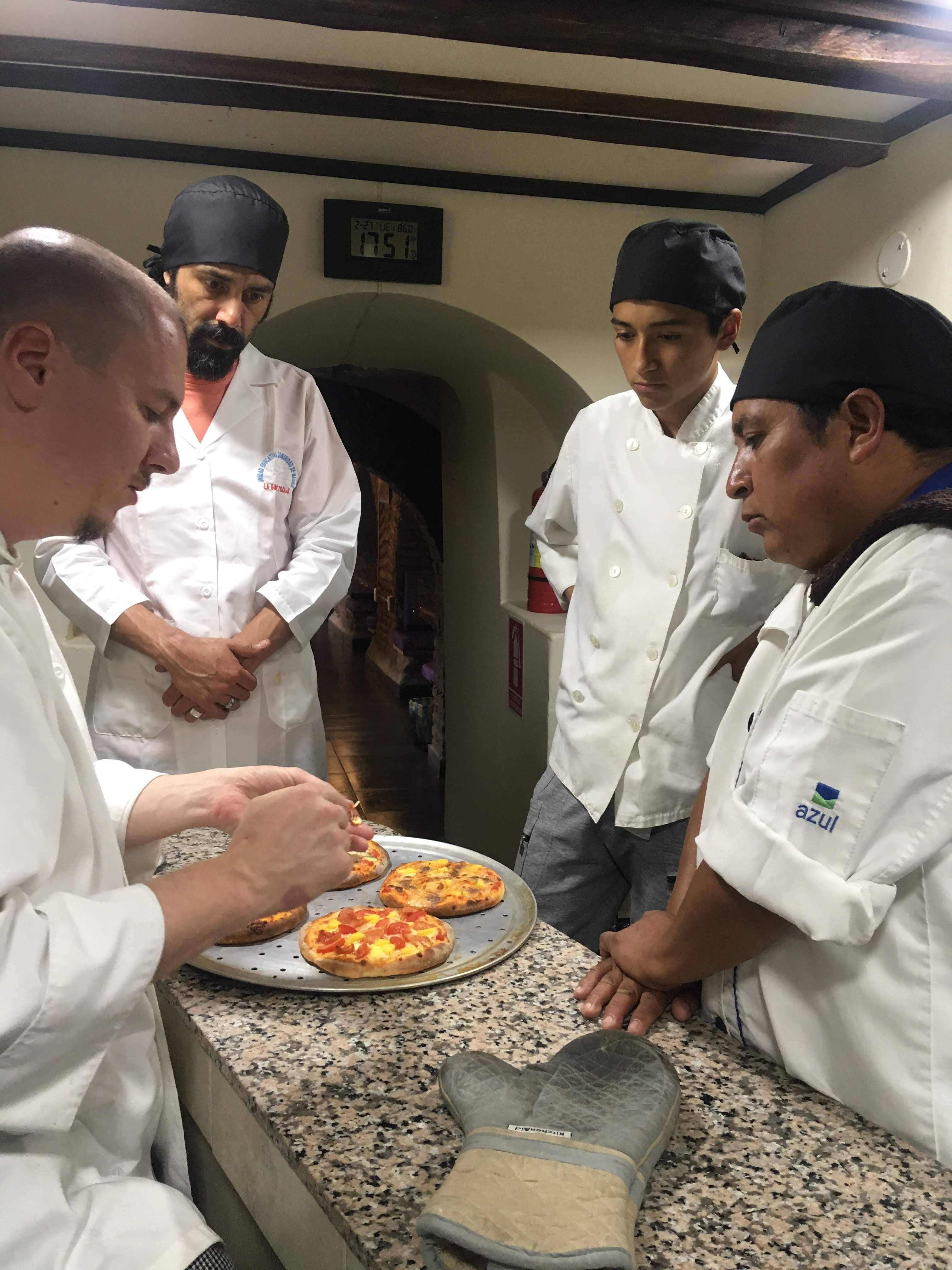 Chef Radu and local trainees
Because raising up folks from our own Community is one of our objectives, we had our Canadian (in photo above) Chef Radu, (my husband's son) train three local people who live in the neighborhood, to become our Pizzaioli and servers, instilling positive work ethics, adequate food preparation, excellent customer service.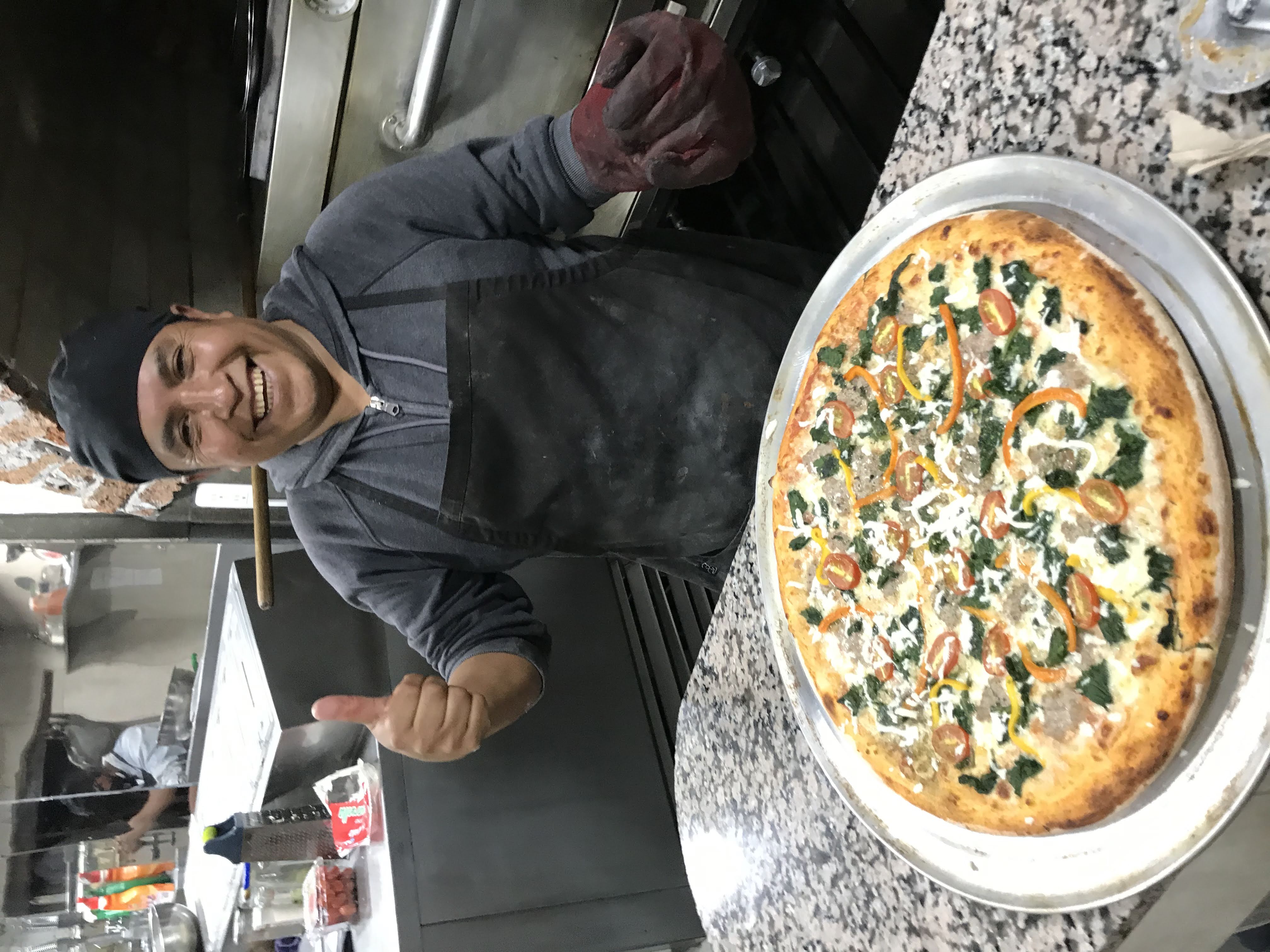 Our trained "Pizzaioli, Luigi", neighbor and father of one of the children we serve (Camila, 9 year-old)
Victor and Dan helping out with extra pizzas and focaccia
GREAT! SO.... WHAT MORE DO WE WANT?
How about a TERRACE IN THE PLAZA? Who doesn't LOVE outdoor seating??
BUT, most importantly, it would give us more exposure as the only terrace in Plaza Victoria, and where we offer excellence in training and jobs to our underserved community, especially to our Casa Victoria Graduates!
Already in training as APPRENTICES in our WUAWUAS PIZZA CAFÉ, Daniel L. and Michelle G., are two of our graduates of Casa Victoria program:
Dani, 15--"This is what I want to do when I grow up!" Michelle 16--"I love learning about customer service!"
I have always envisioned a beautiful terrace out onto Plaza Victoria, with round tables, benches and parasols, surrounded by plants and trees and little lights overhead, and...wait! "they will steal, vandalize, dirty it", people continue to tell me....
Drawing by Jose Tomás V. 9 yrs. old--my grandson

We know that is a risk, but we have been taking risks for 20 years in this area of San Roque where there is a lot of homelessness, micro trafficking, loitering, delinquency, vagrancy...
But there are also youth and children with hopes and dreams of a better place to live. These are our "Victorious",
kids who have graduated from our program and now help guide the little ones at Casa Victoria--
two of them wish to study Hospitality and Tourism, and get a job at WUAWUAS...exactly one of our reasons for being!
We at Casa Victoria are the pioneers, the believers that people in San Roque CAN appreciate and respect beauty and great service. I have no doubt others around the Plaza will follow suit when they see our tables visited by customers and tourists and, surely, the whole Plaza will be renovated and loved by its neighbors and visitors.
We want to invite you to be part of this unique experience of starting something never-before done in this neighborhood: to offer outdoor Café/Pizza service.
This is our design, approved by City Municipality, our (pro bono) architect´s rendition of our Terrace in the Plaza:
A drawing of what it could look like:
Drawing by Esteban Matheus
Our budget for building and equipping the terrace is $8,500:
Pie chart by Diego Matheus
Join us in this unique experience of starting
something never-before done in this neighborhood!
Please consider making a donation to reach out to the community of

Plaza Victoria where a Terraza en la Plaza,
would be a wonderful example of a beautiful and safe meeting place for all
as they are served with love and respect by locals
and
graduates of Casa Victoria Family.

Photo Gallery
Comments
Join Our Mailing List