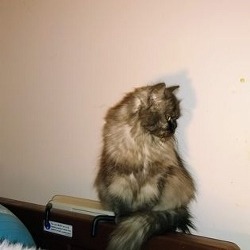 Little Lucy aka Smokey needs help with surgery to correct a congenital diaphragmatic hernia
by Sarah Davis
$2500.00
On August 2nd I took my cat, Little Lucy to an urgent care veterinarian. Little Lucy was in respiratory distress that required immediate attention. She was seen at River Run Animal Hospital. She was breathing rapidly and she needed oxygen to stabilize her. This was the first time this happened. She is a young cat and 3 years old. They took x-rays and did blood work. It was also noted t hat there was a heart murmur. The X-rays shows that she has a congenital pericardial diaphragmatic hernia. Her intestines and liver are in her pericardial sac where her heart is located. This crowds the area where her lungs and heart are located. The breathing issue is made worse by the hernia. She needs the surgery to insure that this does not happen again. She was referred to a cardiologist and she is cleared for surgery. She has no heart issue. I had the consultation board certified veterinarian regarding the surgery. Dr Gifford at Blue Pearl today the surgery would be From $4500 to $7000 I paid to date $1651.48 for the ER Cardiology and the consult.
The reason I need help paying for the surgery to prevent future episodes. It is recommended to have the surgery sooner than later.
Why? I was on disability from April 9, 2022 until 8/1/22.
On April 2, 2022 I fell and broke my proximal humerus and dislocated my shoulder. My surgery was 4/28/22. So from 4/9/22 I was on short term disability until 8/1/22. My income was cut drastically. I also had additional medical expenses for me. I am also a caregiver which adds to my burden. Any help is greatly appreciated. She's my baby and is the sweetest cat. She needs your help. I also have a cat with hyperthyroidism she gets ongoing treatment.
How would you like to support?