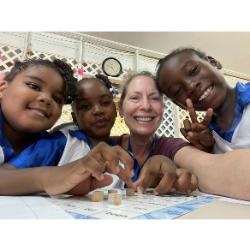 St. Lucia Global Volunteers Trip #6
by Karen Isaac
$3557.00
Dear friends and family~

This February, 2024 will be my 6th Global Volunteer trip to my beloved St.Lucia serving the children of Anse La Raye.
I have often felt hesitant to ask for donations, especially in turbulent times like these. But as some of you may recall, in the years that I didn't ask for donations, many people were disappointed that I didn't give them an opportunity to contribute to my service program.
Your support of my commitment means so much to me, and truly makes a difference to the children of this special community.
Thank you as always for your encouragement and support.
(Please note that by clicking on "Donate to a Volunteer", above, your donation will apply specifically to my service trip account.)

With love and appreciation,
Global Volunteers' mission is to connect people worldwide to wage peace and promote justice through service. Our goal is to sustain the well-being of the world's children and their communities, so they can realize the full promise of their human potential.
Each Global Volunteer plays a significant role in positively impacting the people they serve and the communities they visit
Working on teams of up to 20 individuals, volunteers participate in one-to-three-week service opportunities where they create, nurture, and sustain the well-being of the world's children and their families. Volunteers are welcomed into homes, classrooms, clinics, community centers, hospitals, orphanages, childcare centers, libraries, government offices, farm fields, and more on exceptional international service-learning programs providing essential services of the United Nations Sustainable Development Goals. Volunteers work with and learn from and about local people who are making real change in their communities to help children grow and thrive.
By supporting volunteers' efforts, you contribute directly to the future success of children in partner communities. Your generous donation to your chosen volunteer ensures that these services continue year-round. Thank you for making this investment in the future of our world - our children!
Watch this video and click above to support the volunteer of your choice.