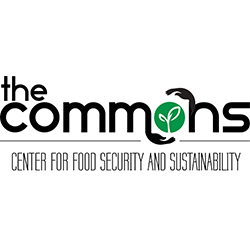 The Commons: Center for Food Security and Sustainability
by The Commons Center for Food Security and Sustainability
Our mission is to meet the immediate needs of Grant County residents who are food insecure and strive to build community around the concepts of food justice, local self-sufficiency and sustainability.
We are a small organization working on BIG issues!
This year we have a CHALLENGE GRANT that will match each Give Grandly dollar donated 1 for 1.. So, your donation is doubled. Thanks to the Anderson Foundation.
Our community (that's YOU) continues to help hungry families and school children. Thank You!!!
We serve over 500 households each year with 400,000 pounds of food at five pantry events in Grant County each month. Additionally, we help over 225 school children each week with supplemental food and will expand that program to over 450 children each week next school year.
Background: Incorporated as a 501(c)(3) non-profit organization in February 2004, and since then, The Commons (formerly The Volunteer Center) has held numerous community conversations on ending hunger and poverty in Grant County. We envision a thriving, sustainable, local economy with meaningful work for everyone and the opportunity for everyone to build a vibrant and hopeful future for our children and grandchildren. With the help of hundreds of volunteers, generous donors, and fruitful community partnerships, The Commons makes our vision reality for food-insecure children and families in Grant County. The Commons' programs are designed to serve and be served by the communities and neighborhoods of Grant County - building positive opportunities for community members of all backgrounds, experiences, ages, and social and economic statuses to not only assist with their needs, but also to come together, work together, and educate.