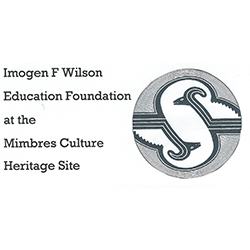 Imogen F. Wilson Education Foundation
by Mimbres Culture Heritage Site
The mission of the Imogen F. Wilson Education Foundation at the Mimbres Culture Heritage Site is to protect and preserve the prehistoric and historic features of the site, and to provide visitors with educational opportunities to increase their understanding of the history of the land use in the Mimbres Valley by experiencing the Mattocks Ruin, the Wood and Gooch houses, and the land itself.
There are two main areas for which we raise funds. We must pay the bills which includes keeping these historic buildings safe and functional. With the assistance of grants, the largest coming from Freeport McMoran, and monetary gifts, we replaced the old leaking roof on the 1882 Dr. Granville Wood homestead house. Our research library will be housed in a larger room and additional workspaces will be available.
Educational programs, tours, student field trips and visitor interactions are very important to keep the history of the Mattocks Site in the Mimbres Valley alive. We host tour groups from all over with different interests like art, pottery making, sociology, archaeology and architecture to name a few. We donate funds for buses which bring school children from Grant and neighboring counties, to the site to learn through six or seven interactive hands-on centers.
All of this is done with volunteers. No one is paid for their dedication to the project and its goals.
We are a 501c3 non-profit foundation.