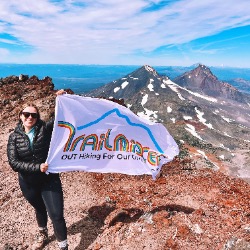 Support Georgia's Climbs for LGBTQ+ Youth
by Georgia Arnold
Hidy ho, campers, climbers and friends! To raise awareness and create support around safe, inclusive outdoor accessibility for underserved LGBTQ+ youth, I am summiting Cloudripper and backpacking through Kings Canyon for 5 days! I am so excited to be climbing again this year to fundraise for our Trailmixer OUTdoor Access Fund.
Although all of our organization partners are incredible, I am most excited about our partner, Outward Bound Adventures. Why, you ask? Because your donations will go towards supporting OBA's first-ever all-LGBTQ+ cohort in their Environmental Studies Expeditions program. How freakin' incredible is that?! This year, I'm setting a big goal for myself of $5000 for the Trailmixer OUTdoor Access Fund – will you help me get there?
Ready... set... climb!
Hello from the Trailmixer Team!

OUT Hiking for Our Community (Trailmixer)* is an organization of hikers with the mission of providing safe, inclusive access to the outdoors to LGBTQ+ folks. Trailmixer works to give back to underserved LGBTQ+ youth year-round, whether that is through scholarships from our fundraiser clim-supported Trailmixer OUTdoor Access Fund or educational community events such as the Unicorn Hikes.
Trailmixer's members and volunteers participate in leadership workshops and community events to help provide LGBTQ+ young adults with tools and skills to grow up with the confidence that they can be whoever they want to be in our society. We are working on developing new nature programs and activities with other factions of the LGBTQ+ community. Our work will grow more with your help.

So will you do it? Will you donate?

In the name of all the participants and partners of Trailmixer, we thank you.

The Trailmixer Team
-----------------------------

* Trailmixer - OUT Hiking for Our Community, Inc. (dba: Trailmixer) is a 501(c)3 nonprofit. EIN# 832-965-468