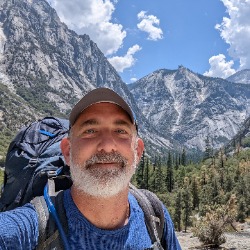 2023 Trailmixer campaign for Youth Scholarships
by Rick Gilles
$5000.00
Howdy!
I am off adventuring again this summer! I have planned 3 excellent adventures for hikers and climbers to participate in:
Climbing Cloudripper in the Inconsolable Range in June. (Great names!)
Backpacking a 40 mile loop in the Desolation Wilderness west of Lake Tahoe in July. And while we are back there, we will summit Dick's and Jack's Peaks!
Backpacking the extraordinary North Lake South Lake Loop through Evolution Valley in Kings Canyon NP in August. A 60 mile trip thru beautiful Eastern Sierra wilderness, including crossing 3 12,000' mountain passes.
I will always hike. But I am leveraging these difficult and amazing trips into an opportunity to help the dreams of queer youth generations behind my own. Being in the outdoors has quite literally saved my life many times through my journey. I am now attempting to help provide access to these same spaces for the queer teenagers of today. Especially those from disadvantaged communities, and those urban communities of color. With LGB and in particular Trans and Non-Binary youth under attack every day by politicians and in the media, I think this year it is even more important to reach into our vaults and help uplift their lives!
Will you please join me in offering our financial support to these youth, in the form of scholarships that we will provide them. These funds will provide access to outdoor and leadership programs offered by our partners, such as Outward Bound Adventures, Brave Trails, National Outdoor Leadership School, and Nature For All. We have funded more than 75 scholarships over the last 3 years....Lets keep this great track record rolling!!!
Thank you for your support!
Hello from the Trailmixer Team!

OUT Hiking for Our Community (Trailmixer)* is an organization of hikers with the mission of providing safe, inclusive access to the outdoors to LGBTQ+ folks. Trailmixer works to give back to underserved LGBTQ+ youth year-round, whether that is through scholarships from our fundraiser clim-supported Trailmixer OUTdoor Access Fund or educational community events such as the Unicorn Hikes.
Trailmixer's members and volunteers participate in leadership workshops and community events to help provide LGBTQ+ young adults with tools and skills to grow up with the confidence that they can be whoever they want to be in our society. We are working on developing new nature programs and activities with other factions of the LGBTQ+ community. Our work will grow more with your help.

So will you do it? Will you donate?

In the name of all the participants and partners of Trailmixer, we thank you.

The Trailmixer Team
-----------------------------

* Trailmixer - OUT Hiking for Our Community, Inc. (dba: Trailmixer) is a 501(c)3 nonprofit. EIN# 832-965-468