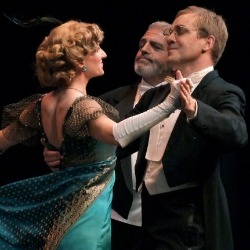 Arie Singer Sings for America (and the Lamplighters)
by Arie Singer
Thanks for visiting my fundraising page!

Please help me support Lamplighters Music Theatre by making a tax-deductible donation through my Sing for America fundraising page. The process is fast, easy, and secure.

As you surely know (and if you don't, do you know me at all?) I have sung with the Lamplighters for more than twenty years. I am so proud to say that I am now a member of the Board of Trustees.

Here is a link to "I Am the Very Model of a Modern Major General" performed by Lawrence Ewing in 2002 during my very first Lamplighters production. While you won't find me in the video (I was too far stage left) you can see my fellow 2023 Sing for America Foundation choruster Kelly Powers (who is fundraising for the Alzheimer's Association of America - go help her out, too), bent over and ass-backwards.

I share this because it highlights the strength of the Lamplighters community - that here we are, more than 20 years in, still singing together. I am fundraising so that future generations of audiences and performers can enjoy this marvelous company.
Between now and April, I'll be rehearsing with the Sing for America Chorus for our Annual Benefit Concert at 7 p.m. on April 16, 2023, at the Palace of Fine Arts in San Francisco. This year's concert will showcase an incredible variety of choral music, beautiful orchestrations, and exceptional guest artists. Our concert theme is "Brand New Day: songs of hope and renewal".

I hope you will be able to attend our Gala Benefit Concert on April 16 at the Palace of Fine Arts Theater in San Francisco. Please use "SFA011" in the coupon box at City Box Office for a $10 discount off the $45 ticket price. It's going to be a terrific show!

Even if you can't donate right now, you can help me reach my fundraising goal by sharing this page on social media or email. Just click the share icons near the top of my page to help me spread the word.

Thanks so much for your support!
Together, we can make a difference.