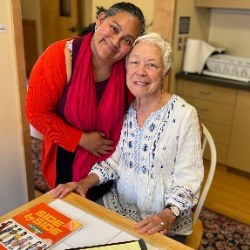 Help me reach my goal!
by Mary Graves
Thanks for visiting my fundraising page!

Please help me support St. Francis Center in Redwood City by making a tax-deductible donation through my Sing for America fundraising page. The process is fast, easy, and secure.

You may have read about St. Francis Center on the front page of the SF Chronicle on February 26th, a definite "good news story" of compassion and empowerment among the poorest population on the Peninsula. They are successfully providing truly low-income housing and preventing gentrification. I volunteer to tutor a mom in English and then another mom tutors me in Spanish twice a week. I love it! Check out their website and become a supportive fan like me!
Between now and April, I'll be rehearsing with the Sing for America Chorus for our Annual Benefit Concert at 7 p.m. on April 16, 2023, at the Palace of Fine Arts in San Francisco. This year's concert will showcase an incredible variety of choral music, beautiful orchestrations, and exceptional guest artists. Our concert theme is "Brand New Day: songs of hope and renewal".
I hope you will be able to attend our Gala Benefit Concert on April 16 at the Palace of Fine Arts Theater in San Francisco. Please use "SFA061" in the coupon box at City Box Office for a $10 discount off the $45 ticket price. It's going to be a terrific show!

Thanks so much for your support!
Mary Graves