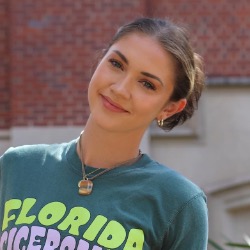 Spark Joy in Education: Help Us Beautify Schools
by Angeli Kasslater
$250.00
Hello and welcome! I appreciate your visit to my fundraising page dedicated to Project Makeover.
This year, I am honored to serve as the Social Media Coordinator for Project Makeover, where I have the opportunity to contribute to the organization's mission of fostering wonder, joy, and dreams in schools.
The University of Florida's Project Makeover chapter operates year-round with the goal of transforming school spaces into imaginative environments for communities.
Over the past 12 years, Project Makeover  has enhancing learning environments in elementary schools. We've envisioned spaces where students can thrive and grow, and we've brought those visions to life. Your support can help us continue to provide inspiring spaces that empower students to learn, create, and flourish.
Thank you for your support. 
With love + light,
Angeli 
How would you like to support?