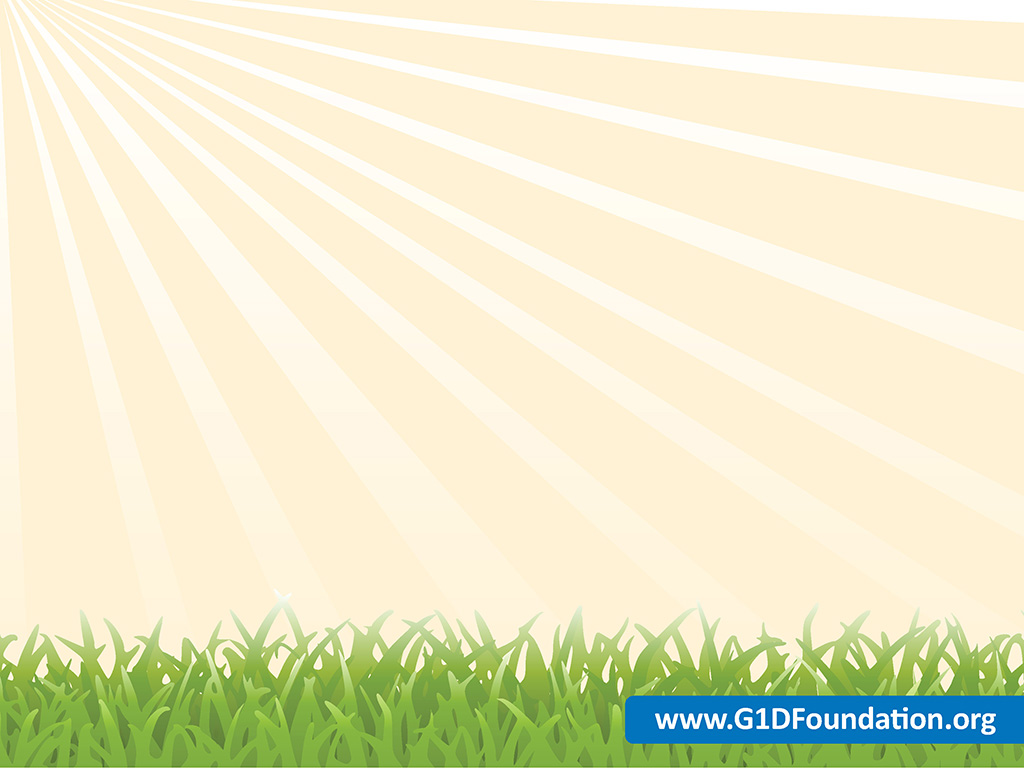 Getting a Glut1 diagnosis took us 10 long years, several pediatric neurologists and other specialists, countless hospital stays, endless labs and tests, incorrect diagnoses and a lot of tears.


Our journey began with an early diagnosis of developmental delay. By 22 months, Allison was diagnosed with epilepsy and put on medication. A month later she walked and talked for the very first time! The drugs were helping!! Soon after that she was diagnosed with a movement disorder and unfortunately nothing helped with that. At age 3, the doctors did their first round of genetic testing which yielded nothing.
By the time Allison was 7, she was experiencing lots of strange uncontrolled movement episodes and even more seizures showed up.
We started relying on a stroller often as she continued to deplete energy easily. We had another round of genetic testing done and again it yielded nothing. We treated all of the symptoms separately the best we could.
Before Allison even reached 10 years old, the symptoms were MUCH worse. We were feeling very defeated. While on multiple seizure medications she was still having more than 30 seizures a day. The seizures didn't want to stop and each medication they tried failed. She was now diagnosed with intractable epilepsy. This means the seizures cannot be controlled by medication. What would her future hold??? She could barely get out of bed in the morning without being carried and when she finally did she would have several seizures before she left for school. Since the drugs weren?t helping and we knew tiredness was a trigger, we started having her sleep at least 12 hours a night hoping to limit the seizures. (Just imagine trying to get your preteen sleeping by 7pm!!). She missed so many activities because we were just trying to get control of this situation. She also constantly needed to eat or she would start to show symptoms of low blood sugar. On many days I'd pick her up from school and she couldn't even make it to the car without losing control of her legs and falling.
She even had two episodes of temporary paralysis. The second episode much worse than the first and the experience was completely devastating. At this point our neurologist recommended we start the Modified Atkins Diet (MAD) which is a variation of the ketogenic diet in hopes it would help control the seizures. It was also time for round three of genetic testing. This time genetic testing had advanced quite a bit since she was last tested. They tested 489 genes and sure enough they found something.....she had Glut1! Now at age 11 we had an answer and the diet was the only treatment available.
Allison?s magic diet has changed her life. All meals are calculated to meet its requirements. She can only consume a total of 10 carbs per day including vitamins and a special KetoCal formula she is forced to drink. This is a challenge because carbs are in pretty much everything (even fruits and vegetables!) She also must eat lots of FAT like butter, oils, mayo and heavy cream with her meals. Ever try eating olive oil and heavy cream mixed together? She will no longer be able to enjoy some of the simple pleasures of childhood?.a happy meal, going out for a slice of pizza, a friend?s birthday cake, an ice cream treat or even a piece of candy. She now eats frozen oil (to get more fat...) and we pretend its candy. Gone are the days of grabbing a bite to eat on the way home?all meals MUST be planned.


Since she started the diet the seizures have stopped and she is now only on one epilepsy medication. We check her blood glucose and ketones multiple times a day to make sure she is where she should be. In the past few months, she has had one uncontrolled movement episode and is steadier on her feet. She now wakes up alert with a sparkle in her eye. Seeing her like this is a gift we will NEVER take for granted. Yet we remind ourselves that she has a long road ahead and the future is unknown.


We are grateful for all the work the Glut1 Deficiency Foundation is doing and are hoping to raise money to help fund research, awareness in the medical community, a more complete treatment and hopefully a cure. I would never want any other parent to have to wait 10 years to finally help their child. Thank you for showing your love for Some1 with Glut1 and for helping us bring help and hope to the Glut1 Deficiency community.


Thank you for your support,


The Ruggiero Family
Glut1 Deficiency is a rare genetic condition where glucose doesn't reach and fuel the brain properly, resulting in a wide spectrum of neurological issues affecting brain growth, learning, movement, speech, and often causing seizures. There are fewer than 1,000 people diagnosed in the world, but experts believe there are many, many more patients still waiting to be found. Because Glut1 Deficiency is so rare, many in the medical profession don't have the knowledge they need to diagnose and properly treat it.  
There is a very effective treatment for most patients - a ketogenic diet, and the earlier patients are diagnosed and start treatment the better the outcome. As fortunate as we are to have the diet, it is not a cure, not a complete treatment, and it is not easy. We need more research for better understanding, better treatment options, and ultimately a complete cure.    
The Glut1 Deficiency Foundation is working hard to bring help and hope to the Glut1 Deficiency community.
The Love Some1 with Glut1 annual campaign is our primary awareness and fundraising event. It runs from Valentine's Day (February 14th) through Rare Disease Day (February 28th), and it is an opportunity to spread awareness and raise much needed funds to help better serve the needs of the community. All donations help fund our mission programs for increased awareness, improved education, advocacy for patients and families, and support and funding for research. 
some highlights our supporters made possible in 2017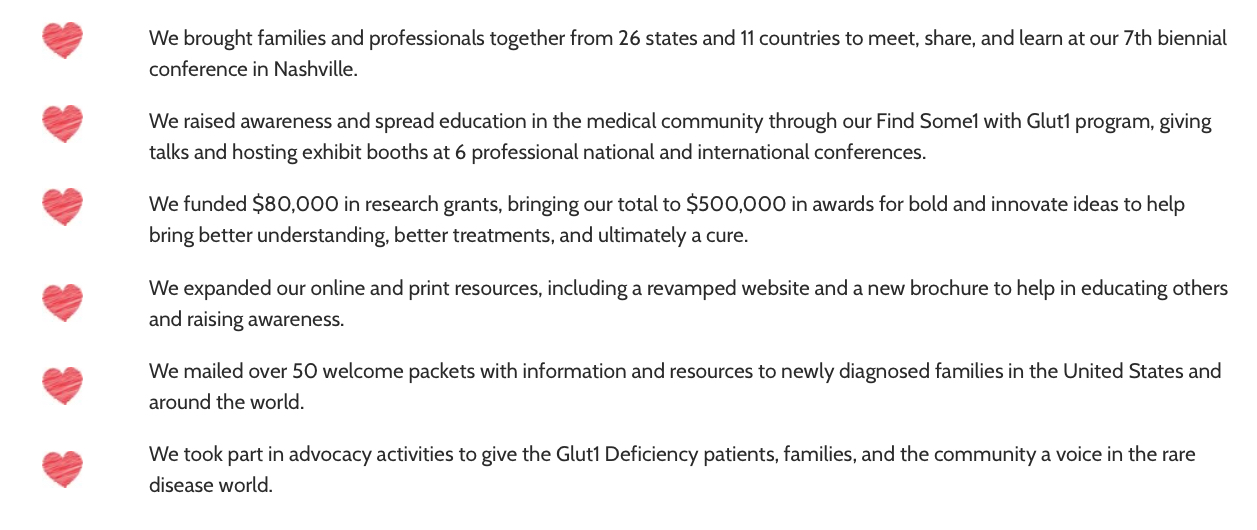 Please help us continue our mission.  
We can do so much more together than any of us can do alone.
please watch our special thank you video
Please visit our website to learn more about Glut1 Deficiency and the work of the G1D Foundation.
How would you like to support?