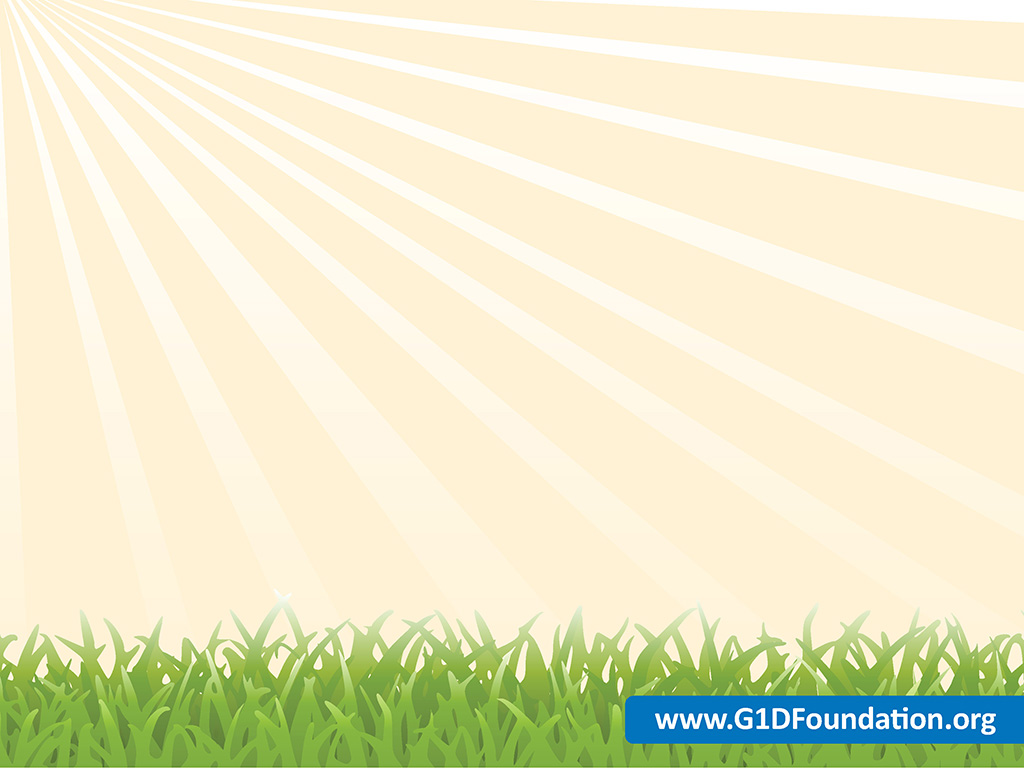 Our family?s Glut1 journey started shortly after Drake turned three years old. Early warning signs started at the age of two ? but they were just little things that seemed off. Drake would get super silly and goofy and then his gait would become jerky and uncoordinated. He would talk slowly, especially when nervous or excited, with long pauses between words. He had trouble grabbing small objects and didn?t seem as dexterous as the other two year olds. Sometimes he almost seemed tipsy.

As a baby he hit all his milestones. He was crawling at 8 months and walking by 15 months old. His temperament was easy going and relaxed, and he was very alert and observant of his surroundings. He was born healthy and happy without any complications after an uneventful pregnancy and birth.

We started becoming concerned about his speech when he was 16 months old. But right after the age of two, he experienced a language explosion and began combining words to make simple sentences. This was paired with an intense curiosity about the world around him, especially in regards to how things worked. We called him our ?little observer?.

He had three memorable episodes of exercise-induced-dyskinesia (sudden involuntary leg spasms) at the age of two. It worried us, but he didn?t seem to be bothered or hurt by it. It made him super silly and goofy. We thought, maybe he just laughed himself to the point he couldn?t walk? Maybe he was moving his legs on his own?

His three-year-old wellness visit uncovered low-muscle tone, microcephaly (small-head circumference), balance issues (unable to stand on one foot for more than a few seconds) and trouble with jumping and landing on his feet. When I mentioned the leg spasms we were advised to see a neurologist right away ? popping our bubble that it was simply due to either growth spurts, a cold or an ear infection. We were also encouraged to start OT and PT therapy.

The first neurologist diagnosed Drake with gait-ataxia and ataxia. The journey then began to find the underlying cause. MRI and blood tests results all came back negative. The next possible step was a lumbar puncture to check his Cerebral Spinal Fluid (CSF), but unfortunately we balked at doing that. When we finally did it, years later, it revealed moderately low CSF glucose levels and confirmed the diagnosis of Glut1 DS that we had just received a month prior via genetic testing.

Drake?s episodes of ataxia, dyskinesia and slurred speech increased from a couple of times a month to a couple of times a week between the ages of three to five years old. Episodes would last from ten minutes to over an hour and would often occur in clusters. We did OT, PT and Speech therapy and Drake constantly improved and achieved the goals set for him, being at most between three to six months behind his peers. He was good-natured about his attacks of ?wobbly legs? and ?drunken sailor walking? ? smiling even when he was unable to control his legs and lower body. Attacks would usually occur in the late afternoon or evenings when he was most tired. He would always recover after a snack and a chance to rest. From the time Drake was a baby I found that he was happiest if he ate every two to three hours when awake, and even to this day I never leave the house without a snack for him.

Our second opinion neurologist eventually diagnosed Drake incorrectly with Episodic Ataxia (the disorder) and after awhile he began taking the medication diamox three times a day. He took it for about a year total from the age of five to the age of six, but then stopped after starting the ketogenic diet ? to his immense relief. The diamox medicine for the most part stopped his movement episodes of dyskinesia and ataxia, but did nothing to address his energy levels, sensitivity to heat, balance and coordination issues. We also noticed he was having trouble with double vision, dizziness, and probably nausea. But we still don?t know if these were side effects of the diamox or symptoms of Glut1 Deficiency that have now gone away with the ketogenic diet.

Thankfully we had genetic testing done when Drake was six years old! We did it simply to determine which type of Episodic Ataxia he had, EA1, EA2, etc. Thanks to the efforts of the G1 Foundation, the Glut1 community and doctors around the world, the SLC2A1 gene was included in his panel, and a mutation was found. And while Drake didn?t fit the more severe symptoms, we immediately knew this was the right diagnosis. It finally explained all of his symptoms: his movement disorders, his slow slurred speech, his fine and gross motor delays, his being easily fatigued and overheated.

Drake has now been on the ketogenic diet for over two years! Drake is eight years old as of 2/1/18. Since the age of six, and his very first week of Keto, he has been symptom free of ataxia and dyskinesia. He took right to the diet as if his body was craving high fat foods. Drake loves his keto food and the fact that so many adults around him are also doing keto.

He is in the regular second grade class at school and getting good grades. We are very lucky that he probably appears ?normal? to most people, but of course he has to work harder than his peers in some areas, especially in regards to handwriting. His favorite subjects in school are math and science. He is reading at grade level and has no cognitive delays. He is a hard-working blue belt in Taekwondo and just started learning the Bo staff. He loves playing video games, especially Minecraft on the XBOX and Creativerse on the computer.

Our experiences have led us to write a blog www.glut1ataxia.com in which we talk about Drake?s Glut1 journey, our pathway to being correctly diagnosed, what early signs to look for with mild Glut1 kids, as well as some yummy 3:1 ratio ketogenic recipes.

Glut1 Deficiency is a rare genetic condition where glucose doesn't reach and fuel the brain properly, resulting in a wide spectrum of neurological issues affecting brain growth, learning, movement, speech, and often causing seizures. There are fewer than 1,000 people diagnosed in the world, but experts believe there are many, many more patients still waiting to be found. Because Glut1 Deficiency is so rare, many in the medical profession don't have the knowledge they need to diagnose and properly treat it.  
There is a very effective treatment for most patients - a ketogenic diet, and the earlier patients are diagnosed and start treatment the better the outcome. As fortunate as we are to have the diet, it is not a cure, not a complete treatment, and it is not easy. We need more research for better understanding, better treatment options, and ultimately a complete cure.    
The Glut1 Deficiency Foundation is working hard to bring help and hope to the Glut1 Deficiency community.
The Love Some1 with Glut1 annual campaign is our primary awareness and fundraising event. It runs from Valentine's Day (February 14th) through Rare Disease Day (February 28th), and it is an opportunity to spread awareness and raise much needed funds to help better serve the needs of the community. All donations help fund our mission programs for increased awareness, improved education, advocacy for patients and families, and support and funding for research. 
some highlights our supporters made possible in 2017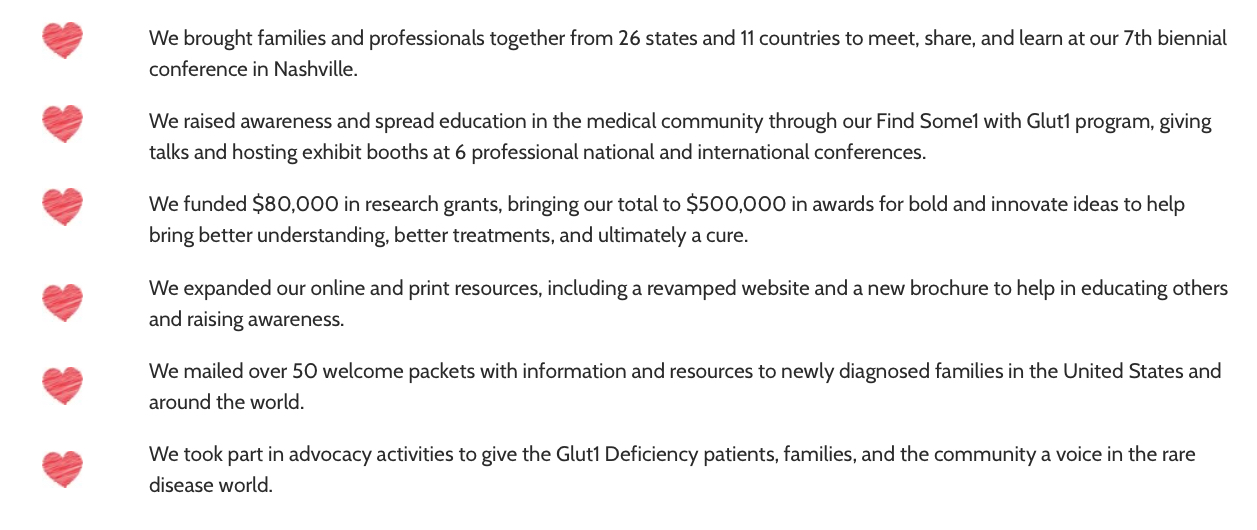 Please help us continue our mission.  
We can do so much more together than any of us can do alone.
please watch our special thank you video
Please visit our website to learn more about Glut1 Deficiency and the work of the G1D Foundation.
How would you like to support?