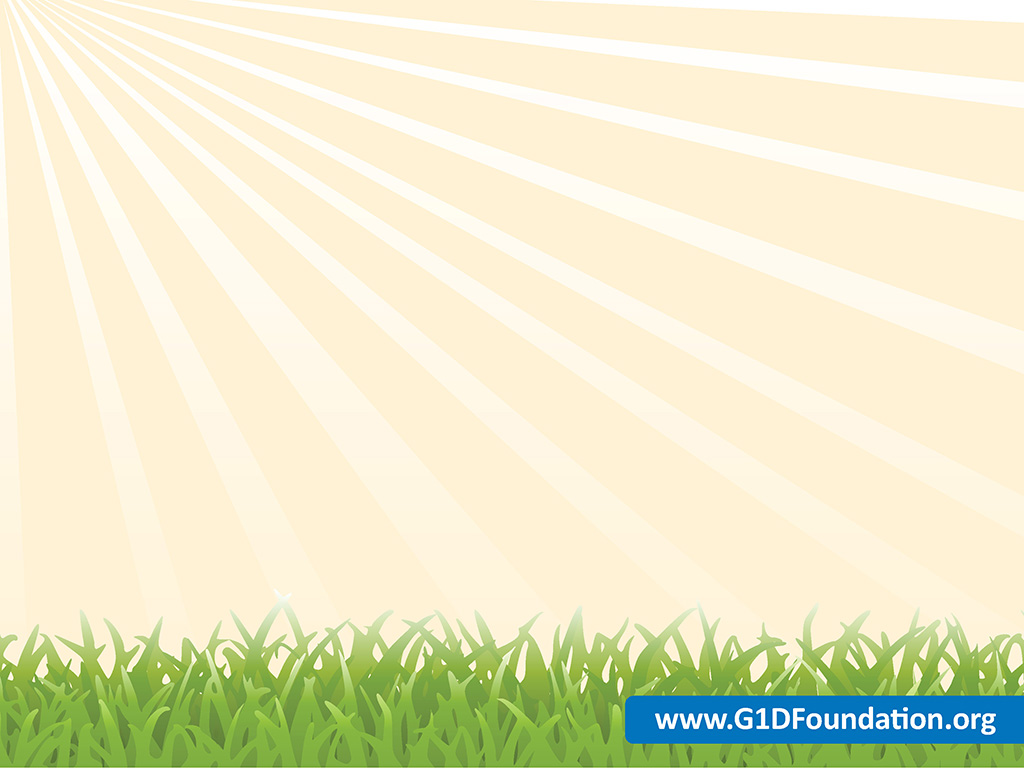 Love Sofia and others with Glut-1/ Ama a Sofia y a otros con Glut-1
by Sandra Ojeda
$2000.00
Thank you for showing your love for Some1 with Glut1 and for helping us bring help and hope to the Glut1 Deficiency community.
Queridos familiares y amigos,
Esperamos que el 2017 les haya traido muchas cosas buenas y que ?ste nuevo a?o est? lleno sea a?n mejor para ustedes y sus familias. El 2017 fu? un a?o excelente para Sof?a. Sigue progresando en su lenguaje expresivo, le encanta cantar y aunque cuando la letra de las canciones va muy rapido le cuesta un poco, cada vez lo hace mucho mejor. Tambi?n ha mejorado mucho su motricidad y coordinaci?n. Este es el segundo a?o que participa en clases de ballet y podemos ver como ha progresado en cuanto a su equilibrio y coordinaci?n en comparaci?n al a?o pasado. En Abril pasado particip? por primera vez en un recital de ballet y lo hizo muy bien, sobretodo lo disfrut?.
El pasado mes de Julio tuvimos la oportunidad de asistir a la conferencia de la Fundaci?n de la Deficiencia de Glut1 en Nashville. Fu? una gran experiencia en donde aprendimos mucho y compartimos experiencias con familias como la nuestra, algunas que ya conoc?amos y otras nuevas. Conferencias como ?stas son posibles gracias a la misi?n de la Fundaci?n de educar y dar a conocer ?sta condici?n. Queremos pedirles el favor que ayuden a la Fundaci?n para la deficiencia de Glut1 a recoger fondos para que continue su misi?n de dar a conocer, educar y recoger fondos para investigadores que est?n trabajando para tener mejores tratamientos y una cura para esta condici?n.
Por favor, apoya la campa?a Ama a alguien con tus donaciones!
Gracias,
Sof?a Mar, Juan y Sandra
Dear family and friends,
We hope that 2017 was a great year and that this New Year will be filled with wonderful things for you and your families. 2017 was an extraordinary year for Sof?a. Her progress continues at all levels. Her expressive language has gotten better, she loves to sing and although she has some difficulty when the lyrics go to fast, she has improved with time. Her motor skills have improved as well. This is the second year she is in ballet class and we can see how much she has progressed with regard to her balance and coordination compared to last year. In April she participated in a ballet recital for the first time and she did great, most of it, she enjoyed it.
This past July we attended the Glut1 Deficiency Foundation conference in Nashville. It was a wonderful experience where we learned so much and shared experiences with other families like ours. Conferences like this one are made possible thanks to the G1D Foundation mission to raise awareness and educate people about this condition. We are reaching out to you to help the Glut1 Deficiency Foundation raise funds to continue its mission to educate raise awareness and funds for researchers that are working on better treatments and a cure.
Please make the Love Some1 Campaign one of the places you choose to support with your donations!
Thank you,
Sofia Mar, Juan and Sandra
Glut1 Deficiency is a rare genetic condition where glucose doesn't reach and fuel the brain properly, resulting in a wide spectrum of neurological issues affecting brain growth, learning, movement, speech, and often causing seizures. There are fewer than 1,000 people diagnosed in the world, but experts believe there are many, many more patients still waiting to be found. Because Glut1 Deficiency is so rare, many in the medical profession don't have the knowledge they need to diagnose and properly treat it.  
There is a very effective treatment for most patients - a ketogenic diet, and the earlier patients are diagnosed and start treatment the better the outcome. As fortunate as we are to have the diet, it is not a cure, not a complete treatment, and it is not easy. We need more research for better understanding, better treatment options, and ultimately a complete cure.    
The Glut1 Deficiency Foundation is working hard to bring help and hope to the Glut1 Deficiency community.
The Love Some1 with Glut1 annual campaign is our primary awareness and fundraising event. It runs from Valentine's Day (February 14th) through Rare Disease Day (February 28th), and it is an opportunity to spread awareness and raise much needed funds to help better serve the needs of the community. All donations help fund our mission programs for increased awareness, improved education, advocacy for patients and families, and support and funding for research. 
some highlights our supporters made possible in 2017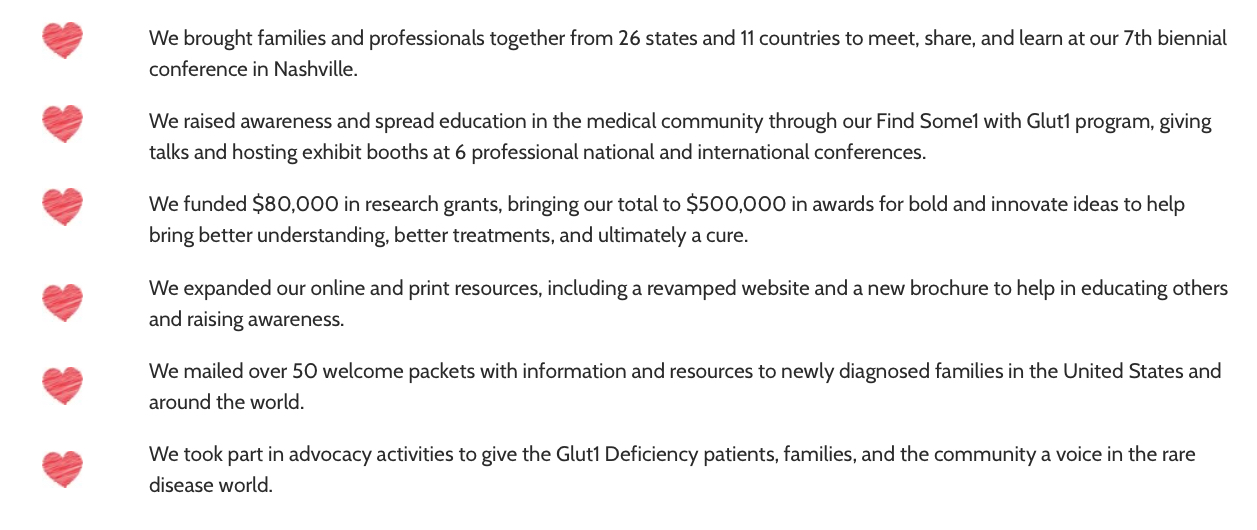 Please help us continue our mission.  
We can do so much more together than any of us can do alone.
please watch our special thank you video
Please visit our website to learn more about Glut1 Deficiency and the work of the G1D Foundation.
How would you like to support?