 Raising $625 for Disaster Relief Fund
by Jenn's Fundraising Team!
$625.00
Join us for #GivingTuesday to raise $5,000 for our Disaster Relief Fund!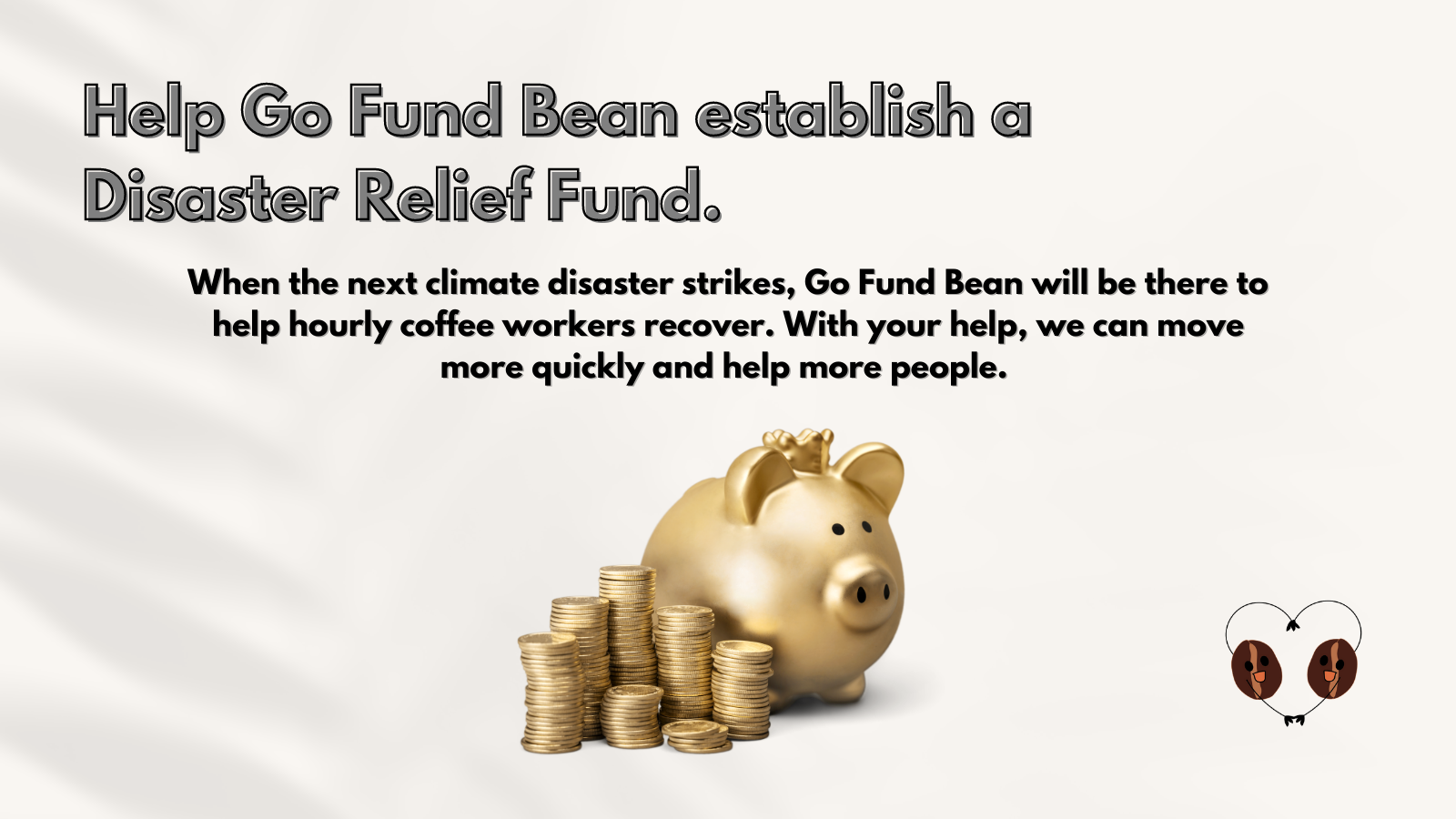 What We Learned from Hurricane Ida
When Hurricane Ida struck on August 30th, 2021, Go Fund Bean leapt into action. Through corporate connections and community donations, we were able to raise over $100,000 to help hourly coffee works who were impacted by Hurricane Ida. And we're so grateful to everyone who stepped up that way!
However, the process was really slow. Due to corporate accounting policies and bank limits, it took months to get some of the money that had been promised to us, which meant it took months for us to get money into the hands of people who needed it.
That's why we're establishing the Disaster Relief Fund.
---
What Your Gift Will Accomplish
With your support, we can help more hourly coffee workers receive much needed emergency relief must faster the next time a climate disaster strikes. We give $500 grants to help people get back on their feet after a disaster. They can use it to cover lost wages or to repair and replace damaged possessions.
Any amount helps! Whether you can donate $5 or $500, we will appreciate it! Together we'll help people get back on their feet the next time a disaster strikes.
But the first four people to donate more than $40 and include their mailing address in their pledge will receive a cute secret gift from us. Don't miss out!
A NOTE FROM JENN
Check out our GFB fundraising page
or scroll back up for additional information

Hey friends & family,
As a Go Fund Bean board member, I'm very proud of the work we've done since the organization's founding. GFB's mission is to support, uplift, and defend hourly coffee workers.
When Hurricane Ida hit Louisiana, we raised over $100,000 in financial relief grants to people who had missed paychecks or lost their jobs entirely. We don't know when or where the next climate disaster will hit, but we do know that hourly employees will be the most vulnerable people in the face of it. This is why we're creating and fundraising for a Disaster Relief Fund.
Donations to this fund will help someone stay on their feet the next time a disaster occurs. Please consider donating today. Any amount helps whether it's $5 or $25.
Thank you,
Jenn