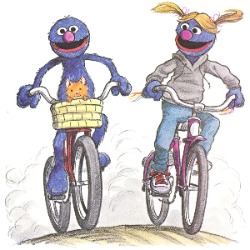 Puppets Pedalling for Pedal Powered Possibilities
by Muppet's Milers
For the past 7 years the Hoffen Foundation has asked friends and supporters to contribute to our "Tour de Hoffen" which runs in conjunction with the Tour De France, the most prestigious bicycle race in the world. The Tour de France is held each July for three weeks. For 2022, we have changed things around a little bit so as to be the major bicycle fundraiser for the Hoffen Bicycle Club. The fundraising for some will be all year long based on their own chosen goals which may be a year long goal. For others it will just run through the days of the Tour de France which is July 1st through July 21st
During the French Tour, the Tour de Hoffen sports riders who ride a specified length of their choosing to bring awareness to the Hoffen Foundation and also a specific program designated by the Hoffen Bike Club. This years proceeds will benefit a new program we are starting this year. We are going to purchase special custom made bicycles for special needs kids. Bike Day is scheduled to provide bicycles during the Bike Day event at Cook Children's Medical Center in Fort Worth, Texas. Catch the video's below of a similar program working in the Detroit area. We are working with the creators of the program and bike manufacturer's to duplicate the program.
https://www.clickondetroit.com/news/local/2021/05/23/88-special-needs-kids-get-customized-bikes-at-royal-oak-beaumont/?fbclid=IwAR3rsVPtZE7nOrtaDp0CTglSAlybiPiT6u1AKD2Kkhz65fSXA-z-BI5VFKM

https://www.beaumont.org/health-wellness/news/122-children-receive-special-bikes-at-bike-day
So please consider supporting a rider or becoming a rider and help us help "Give Children a Ray of Hope"
Just click on any fundraiser/supporter or the teams or participants to donate. PLEASE NOTE: If you do not see a specific person/supporter/rider you would like to make your donation for, please click the "View More Fundraisers" button below for more names.
Thanks for your interest and support of the Hoffen Foundation



??The Muppet Milers are again set to be the best team in the Tour de Hoffen. We are always looking for new talent to join the team and build on our success. The Tour de Hoffen is a platform to get some customer made bicycles for special kids at Cook Children's Hospital. The Goal of the Muppet Milers is to get one or two bikes made. With an average cost of $5000.00 to $10,000.00, we have a lofty goal to achieve. Please help us help others and give some kids the joy of bicycle riding. ?