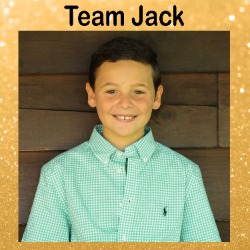 Team Jack Spin 4 Kids Fundraiser
by Team Jack
Welcome to the Team Jack Spin 4 Kids fundraising page! We hope that you'll consider making a donation towards Team Jack or even create your own fundraising page to help us reach our team goal as well as to honor Jack's as he remains in remission from two fights against Burkitt Lymphoma. Spin for Team Jack and Spin 4 Kids.
About Jack
"Jack is the type of child who is able to thrive under the worst of circumstances. He is a kind, empathic soul, who rarely doesn't have a smile on his face, and who loves everyone. He is opinionated, strong, and persistent, traits I've always said will promise success in his future. Little did I know Jack would be forced to prove these qualities far sooner. Jack was diagnosed with Burkitt Lymphoma at six years old. He finished treatment on his seventh birthday, but devastatingly relapsed two months later. He has since successfully completed salvage chemo and underwent a stem cell transplant. Not two weeks after transplant I found myself jogging after him in the hospital halls pleading with him to slow down as he played "bumper cars" with his IV pole. Jack rarely feels bad for himself, and continues to find happiness and joy in every day. One cannot explain how inspiring it is to watch someone fight a battle with so much grace. I am truly honored to be his mother." - Erin O'Donoghue
About Infinite Love
Infinite Love is a 100% volunteer-run 501c3 nonprofit foundation with the dual missions of 1) funding new pediatric cancer research (click here for an itemized list of what we've already funded), and 2) providing financial and emotional support to families currently fighting childhood cancer. Because there are no Infinite Love salaries, everything that you give goes entirely to our cause! Thanks to generous supporters like you, since 2013 we have funded over $1 million in research grants to some of our country's leading research hospitals and facilities and we've written thousands of dollars of support checks to childhood cancer families, given backyard makeovers, sent kids to sports events, built dream tree houses and we've unfortunately even covered the expenses for memorials (click here to read reviews about Infinite Love).
Please note that this Team Jack page is raising funds for Infinite Love for Kids Fighting Cancer where 100% of the proceeds will be used to fund research and to help families affected by childhood cancer. This fundraising page is not raising funds for Jack's family.